Students lend hand to effort for troops
For U.S. soldiers overseas, care packages reminding them of life at home are always welcome.
And soon, soldiers in Iraq will be getting one of those reminders from Tonganoxie High School art students in the form of a personalized handmade quilt.
"It's a fantastic thing for the kids to do," said Amy Johnson, THS art teacher. "It is so easy to forget what they are doing for you when you are in the comfort of your home. Something so small like this can make such a big difference to them."
On Dec. 3 and 4, all of Johnson's art I students spent their time drawing patriotic symbols and inspirational messages on fabric squares that will be compiled into a quilt for soldiers overseas.
Johnson got involved in the project after being contacted by Shelly Johnson.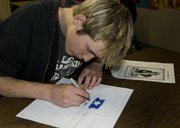 Shelly Johnson has done other projects with Tonganoxie residents and schools, but this is the first time she has participated in helping to make a quilt.
"Our soldiers need to know that some people may agree with what is going on and some may not, but we support them," Shelly Johnson said.
Shelly Johnson first got involved with sending packages to the troops through one of her employer's contacts.
Johnson's employer, Original Juan, sends hot sauce to soldiers through a retired Navy veteran Robert Williams, who now lives in Florida. Williams receives items from companies like Original Juan and Starbucks and ships them to the different military bases in the Middle East.
"I decided after Vietnam that the way soldiers came home is not the way I wanted to see them come home," Williams said. "I'm just paying a little back and giving back to our boys and girls that are over there keeping us form having to learn Farsi."
Williams is involved with the THS quilting squares project, too. After the fabric squares were decorated, they were mailed to Williams at his office in Wesley Chapel, Fla. There he organizes different quilting groups from the Tampa Bay area to sew the four-foot by four-foot quilts that will be hung in public or communal areas at different bases in the Middle East.
This was the first year Williams has tried making quilts. He has been receiving fabric squares from other schools and organizations so he can make 215 different quilts needed to send overseas.
The project has special significance THS art student Jordan Schilitz since her uncle recently was injured while serving in Iraq.
"Anything that they get over in Iraq makes them happy, even if it's not a big thing," Schilitz said. "It's a big deal for them to see how people care."