Wrestling coach values
THS

finish at Eudora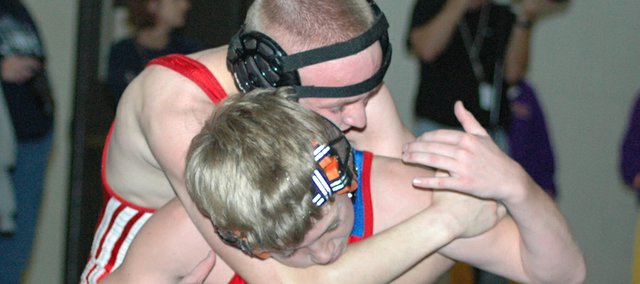 The Tonganoxie High wrestling team finished in eighth place of 24 teams Saturday at the Eudora Tournament of Champions meet.
Eighth place is the best finish in the six years of Jeremy Goebel's reign as coach at the meet at Eudora High.
"We went out there and wrestled as hard as we could and left it on the mat," Goebel said. "There's a stereotype in wrestling that it's not a team sport. But it really is. If we don't have one, we don't have the whole caboodle, so to speak. We need every piece of the puzzle to make good strides in tournaments and duals.
THS is off to a solid start this winter. Last week, it finished third in the Kaw Valley League Dual Wrestling Tournament.
Seniors Travis Adcox (10-3), Cameron Adcox (9-3) and Wyatt Coffin (9-3) are leading the way for the Chieftains.
THS came out of the weekend meet slightly banged up. Coffin sustained a shoulder injury, but the senior isn't expected to miss any time. Junior Matt Brock felt sick on Saturday and missed his matches. He also shouldn't miss any time, though.
Goebel said he was impressed by sophomore Jeff Ross, who wrestles in the 103-pound weight class.
Ross had an extremely impressive moment on Saturday against a wrestler from St. Thomas Aquinas. He was down, 7-2, with a minute remaining. Remarkably, the sophomore found the strength to pin his opponent before time expired.
"I guarantee you on paper he wasn't supposed to do that," Goebel said. "He wrestled phenomenonally. That's just heart. That's all you can say. He's one of those kids where if there's 10 seconds left in the match, he'll never give up."
Ross is 8-4 on the season.
Other top team records to date include Brock at 6-2, Kevin Hamm at 8-4, Jake Willis at 5-3, Jeremy Elliot at 5-3 and Steve Davis at 5-3.
The Eudora meet took place on Friday and Saturday. After the first day, Tonganoxie was actually in fourth place.
"I think we put our name out there a little bit against some top-notch programs," Goebel said.
Aquinas won the meet with 235 points. It was followed by Prairie View (211), Baldwin (209) and Lansing (196.5). Tonganoxie registered 168 points in eighth place.
The Chieftains will wrestle next at 5:30 p.m. Thursday in a dual against the Santa Fe Trail Chargers.
The dual, which will take place at Santa Fe Trail High, is significant because Goebel said he didn't know of a time Tonganoxie had ever defeated SFT in a dual. To make the match-up even more interesting, SFT defeated THS already this year at the KVL Dual Wrestling Tournament.
"I don't want to put a whole lot of tokens on this one dual," Goebel said. "It is important, though, for us to prove ourselves to the wrestling community that we can compete with top-notch programs. I think they realize chemistry and team bonding are pretty lethal in the sense that they can get a lot accomplished. One of those things would be taking it to Santa Fe."