Catch her if you can
Senior dominant in putting away Lansing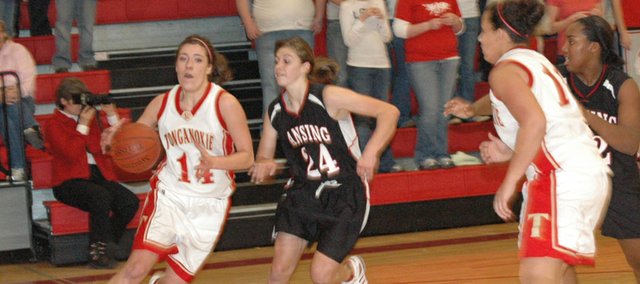 Photo Gallery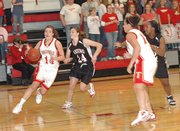 THS girls vs. Lansing
View additional photos from the Tonganoxie vs. Lansing girls basketball game from Thursday night.
Liz Baska played so well Thursday that even the opposing Lansing coach felt it necessary to tell her about the dominating performance.
As Baska was answering interview questions after Tonganoxie's 52-42 victory, Keith Andrews had a lighthearted message for Baska. In fact, the Lansing coach barely had to break his stride to tell her.
"You want me to answer questions for her?" Andrews jokingly asked. "Great game, sunshine."
Lansing had no answer for the THS senior guard/forward, who put up numbers fantasy sports experts would drool over: 24 points and 16 rebounds. Baska hit 2-of-3 from long distance and converted 6-of-7 free throws.
"We set up some cuts and my teammates were really good about getting me some good passes," Baska said. "I was running around kind of crazy. Maybe that helped a little bit."
In reality, Baska's performance fit every antonym in the book for crazy: Controlled, balanced and focused, to name a few.
Her ability to shoot the three-pointer kept Lansing defenders honest. When the Lions respected her three-point shot and played her on the perimeter, Baska would beat defenders to the basket. When Lansing sensed Baska sinking down to the paint or penetrating, she'd spot up for the trifecta.
When Baska, who starts at the five position, spotted up for three-pointers, she had the complete trust of the Tonganoxie bench.
"The first one she hit, we were sitting there on the bench and we knew it was in when it left her hand," THS coach Randy Kraft said. "She finally caught it with some rhythm. I think she had been a little out of rhythm earlier (this season). She looked pretty comfortable (Thursday)."
Tonganoxie trailed, 13-12, after the first quarter. Lansing's post players did an admirable job of grabbing numerous offensive rebounds and generating second and third chances for the Lions.
The Chieftains outscored the Lions, 17-8, in the second quarter and took a 30-22 lead into halftime. Baska hit one of her two threes with 1:40 left before the intermission, helping THS to a 10-point lead.
THS stepped up its rebounding in the second half. The Chieftains grabbed an eye-opening 50 rebounds - 23 on the offensive end - in the game.
Much of the Chieftains' rebounds stemmed from good defense on the Lions' perimeter shooters. Lansing isn't afraid to take the three-point shot. The Lions attempted 18 threes, but only converted four.
"They have three or four kids to where any one of them could get hot," Kraft said. "You can't just let them stand out there and shoot. They try to spread you out and not give you any chances to get good help."
Baska wasn't the only Tonganoxie player who registered a double-double. Senior forward Shannon Carlin scored 10 points and grabbed 11 rebounds.
Junior Chrissie Jeannin had eight points and five assists, and senior Tracie Hileman added six points.
Katie Neitzke led Lansing with 12 points. Amy Briggs had eight and Brittney Lang added seven.
Tonganoxie improved to 4-1, while Lansing dropped to 3-2. Thursday represented the first THS home game of the season.
"Obviously, you want to defend your home floor, with your first game at home in front of the home crowd," Kraft said. "I think that kind of inspired our play a little bit harder to get through the rocky spots."