First quarter costly in Hy-Vee Shootout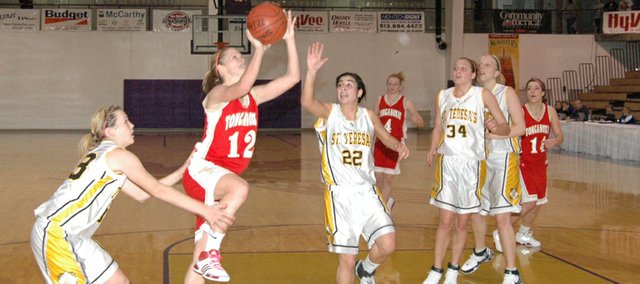 Photo Gallery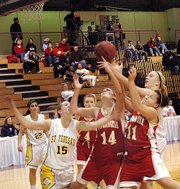 THS girls vs. St. Teresa's (Mo.)
View additional photos of the Tonganoxie vs. St. Teresa's Academy (Mo.) game from Avila University in Kansas City, Mo.
Kansas City, Mo. — The Tonganoxie High girls basketball team played St. Teresa's Academy (Mo.) tough for three quarters.
Unfortunately for THS, one quarter made the difference in its 54-45 defeat Friday at Avila University's Mabee Fieldhouse in Kansas City, Mo.
The costly period was the first, which saw St. Teresa's outscore Tonganoxie, 20-9.
Take away the first quarter and the Chieftains outscored the Stars, 36-34.
"We didn't adjust very quickly," THS coach Randy Kraft said. "We were giving up easy rebounds. We weren't taking very good care of the ball early. We were forcing things a bit and didn't let the game come to us."
Tonganoxie faced St. Teresa's as part of the Hy-Vee Shootout, which was televised live on Metro Sports. The shootout wasn't a tournament. It featured five games of Kansas high schools taking on Missouri high schools.
Tonganoxie was the only Kansas Class 4A school represented. The others (Bishop Miege, St. Thomas Aquinas, Shawnee Mission West and Blue Valley North) were 5A and 6A programs.
The Chieftains played Friday's game on short rest, fewer than 24 hours after defeating the Lansing Lions in their first home game of the season.
"A game's a game," senior Shannon Carlin said. "I think we were all ready. You're pumped no matter what, when or how many times in a week. You just want to play. I don't think anyone was sore or anything."
Tonganoxie had difficult defensive assignments against St. Teresa's. The Stars prominently featured 5-foot-10 inch center Abby Duethman in the post, but also had capable three-point shooters.
St. Teresa's launched away from downtown, attempting 24 threes, of which it converted four. Duethman had eight offensive rebounds and converted many of those to layups. Duethman had 18 points and 14 rebounds.
"We couldn't stop her one-on-one very well," Kraft said of Duethman. "Obviously, she's a great player. Then, you go to double (team) her with the wrong player and pretty soon, they're hitting a three. It was a tough matchup."
The Chieftains showed flashes throughout the game. Senior Liz Baska scored 14 points, junior Roni Grizzle scored eight and Carlin scored six in leading THS.
Senior Tracie Hileman got the crowd going in the second quarter when she caught the ball near the basket in the post. The THS forward made a move toward the basket and appeared to go up for a shot. Upon being double-teamed, Hileman switched the ball to her left hand and made a no-look underhand pass to Grizzle in mid-air.
Grizzle converted the open layup amidst a chorus of "oo's" and "ahh's," even from the St. Teresa's section.
Tonganoxie couldn't cut the lead to fewer than five, though, in the second half. The Chieftains were forced to foul at the end of the game, but St. Teresa's converted pressure free throws, putting the game out of reach.
"I think they were a good team, but I also think we beat ourselves," said senior guard Christy Weller, who had five points and four rebounds.
Tonganoxie (4-2) played its next game Tuesday night against De Soto, but the game ran past The Mirror's press time. Check tonganoxiemirror.com for the results.