Lions speed causes turnovers, sloppy play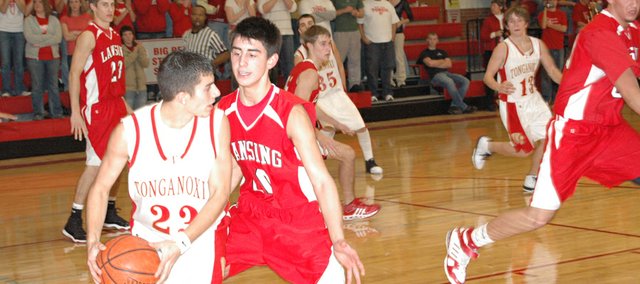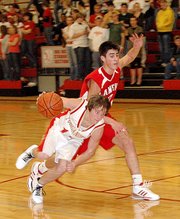 The Tonganoxie High boys basketball team shot better than 50 percent from the field Thursday night against Lansing. Surely, a lopsided 60-37 Lansing victory seemed unthinkable.
Somehow, it happened. The only remaining question is:how?
"We gave them the ball a number of times and took some hurried shots," THS coach David Walker said. "Wins and losses aren't as disappointing as some may think it should be. It was our mental focus that was more disappointing."
Indeed, Tonganoxie gave the ball to Lansing too many times (22) to stay in the game. The Chieftains made 16 of their 30 shots (53.3 percent), but turnovers limited their ability to attempt more shots.
THS had more turnovers (seven) than field goal attempts (six) in the second quarter.
Tonganoxie's leading scorer, senior Gabe Belobrajdic, sat on the bench for the entire second quarter because he picked up two quick fouls. The Chieftains didn't perform well with Belobrajdic on the bench and scored only five points in the quarter.
Lansing took a 29-17 lead into halftime. Then, it really got ugly for THS.
The Lions erupted with a 15-3 run at the start of the second half and essentially put the game out of reach before the fourth quarter.
"Their guards, wow - they are really quick," said THS guard Jeremy Carlisle, who saw extensive varsity action (18 minutes) as a freshman. "They were quicker than anyone we had, so we had to play two or three feet in front of them and contain them so they didn't drive."
Lansing didn't light up the stat sheet - Kevin Johnson and Brian Beall led the Lions with 10 points apiece - but had 11 players contribute to its point totals.
Belobrajdic led the Chieftains with 18 points and eight rebounds. The senior was 8-of-11 from the field.
In fact, Tonganoxie converted its first six shots of the game. The Chieftains' lone miss in the first quarter was a heave from behind half court as the quarter expired. As the game wore on, the Chieftains didn't have as many clear looks at the basket.
"We just quit running our offense," Carlisle said. "In the first quarter, we were running through our offense and got easy looks down low. But we got worn down."
Tonganoxie dropped to 1-4 on the season, while Lansing improved to 3-2.
Tonganoxie played its next game Tuesday night against De Soto, but the game ran past The Mirror's press time. Check tonganoxiemirror.com for the results.