Stockings for Soldiers
Soldier's family prepares 23 stockings for loved one in Iraq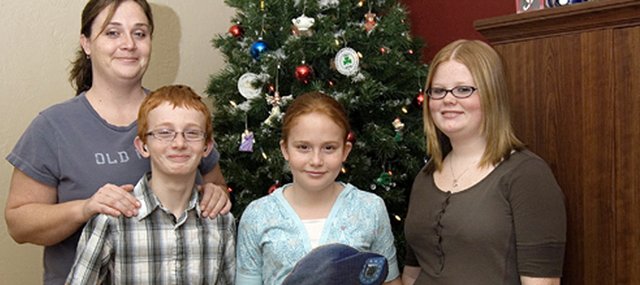 Photo Gallery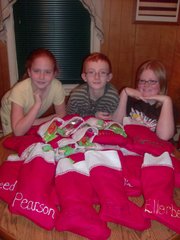 Peel stockings to Iraq
View additional photos of the Peels preparing Christmas stockings.
Joe and Leanne Peel have been married for 13 years and have spent every Christmas of their marriage together. Unfortunately, 2007 has presented the Peel family with an uncontrollable situation.
Joe is a U.S. Army Specialist and will be stationed in Iraq until May 2008. This will be the first time Joe won't spend Christmas with Leanne or their three children, Torrie, 14, J.D., 12, and Haleigh, 11.
Leanne and the children are still planning on making this year a memorable Christmas at their home in Tonganoxie.
The Tonganoxie soldier doesn't know it yet, but his family prepared 23 stockings for the troops in Joe's platoon. It took five boxes to mail the presents to Iraq.
"It's a hard time of the year, not only for us being away from Joe, but it goes for all the military families, " Leanne said. "They might be 9,000 miles away, but we're still thinking about them."
Leanne had many family members helping with the stockings, including her mother, Linda Schiltz; Joe's parents, Nancy and Ed Peel; Leanne's grandmother, Mary French; and Leanne's sister-in-law, Wendy Cook.
The group included several candies in the stockings: Store-bought candy, candy canes, Chex Mix and Cracker Jacks, to name a few. The highlight may have been the cooking services of Cook and her homemade cinnamon candies. Homemade chocolate-covered pretzels were also included.
"It took a lot of brainstorming," Schiltz said. "We were limited on what we could send. By the time it gets there, cookies could mold or break apart and crumble. Wendy's cinnamon candies are Joe's favorite. If you like cinnamon, you'd love it."
Joe may not be able to spend the holidays in Tonganoxie, but that doesn't mean he won't be able to see his children open their presents Christmas morning.
"We're hoping we can get him on Web cam Christmas morning," Leanne said. "It depends whether he's running missions at the time."
Joe has been in Iraq for nearly a year. He returned to Tonganoxie in August for 18 days of rest and recuperation.
"It's hard, but the kids are doing well," Leanne said. "It was hard on them the second time saying goodbye. They are a little sad because it's the holidays. But they still know mommy's going to carry on the same tradition."