THS

grad semifinalist in pageant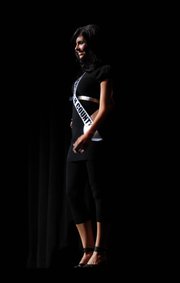 Amber DeGraeve is no stranger to the critical eye of a judge.
For many years DeGraeve was active with the National FFA Organization winning awards for public speaking and for putting cattle on display. Now for the second year in a row DeGraeve has been putting herself on display for the chance of becoming Miss Kansas.
"With cattle you only have to worry about what your animal looks like and they are not paying attention to you," DeGraeve said. "In the pageant they are just focused on you."
This weekend 19-year-old DeGraeve and 57 other women from across the state competed at the Lied Center in Lawrence for the title of Miss Kansas and Miss Teen Kansas.
"We finished up the production season with a great show," said Jennifer Fisher, co-director for Vanbros and Associates Inc., which put on the pageant. "We had an excellent group of young ladies."
DeGraeve, a 2006 Tonganoxie High School graduate and now a pre-nursing student at Kansas City Kansas Community College, got involved with pageantry last year when she competed as Miss Tonganoxie and won an honorable mention.
This year, presenting as Miss Leavenworth County, DeGraeve was a semifinalist in the top 14. She attributes her success to being a little more experienced with pageants and with life.
"I was older this year, which definitely made it better," she said. "Last year I was the youngest that I could be."
During the competition, the contestants participated in three events: evening gown, swimsuit and personal interview.
DeGraeve's favorite part of the competition was wearing her bright Pacific blue swimsuit. Her least favorite part of the competition was trying to get down the stairs in her strapless coral dress with a long train.
DeGraeve's family was in Lawrence this weekend to support her during the show.
Brenda DeGraeve, Amber's mother, was excited that her daughter placed higher this year, but still remembers Amber from her time when she was very active with FFA.
"We live on a farm and usually we are more country people," Brenda said. "We never would have seen her doing something like this until last year when she received some information in the mail about (Miss Kansas). I thought it would be a good learning experience and a good way to gain some self-confidence."
DeGraeve said she doesn't plan on competing next year and wants to wait until she is 21 or a little older to continue competing.