Chieftains rout Wildcats at home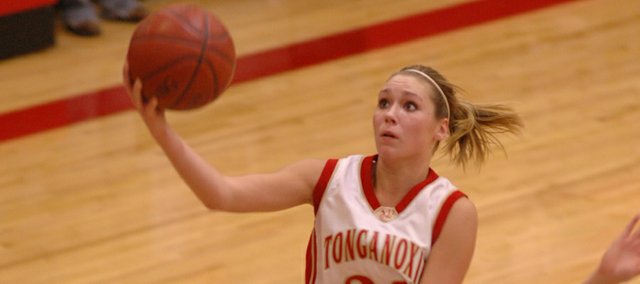 After practice came to an end last week, Ronnie Grizzle sat down and had a talk with Tonganoxie High basketball coaches.
"The reason I didn't get as much time on (Dec. 14) was my defense wasn't good," Grizzle said. "Tonight (Dec. 18), my main goal was just defense. I didn't care if I scored or what I did on offense."
The talk worked.
Tonganoxie destroyed De Soto, 54-19, on Dec. 18 and improved to 5-2 heading into the two-week winter break.
Tonganoxie stepped up the intensity on defense, as evidenced by the two points De Soto scored in the second quarter.
Tonganoxie's defensive tenacity caused visible frustration from the visiting sideline.
By the time De Soto coach Dwight Spencer used all of his timeouts for the half, 7:30 still remained in the second quarter. The Chieftains took a deciding 28-6 lead into the half.
"Our quick start was due to two things: Our defense and ball movement offensively," Tonganoxie coach Randy Kraft said. "We had good player movement and our kids moved the ball pretty well."
The blowout victory was especially rewarding for Grizzle, who actually lives in De Soto, about 20 miles away from Tonganoxie.
"I woke up this morning and thought, 'I'm in De Soto,'" Grizzle said. "Soon, I'll be playing De Soto. It just feels great."
Grizzle transferred to Tonganoxie her freshman year. Grizzle and her sister, Roxi, also are serious track athletes. Roxi, a senior, will throw the javelin at the collegiate level at Division-I Nebraska next season.
Tonganoxie throws coach David St. Cyr has coached the sisters during the summer months for several years. Ronnie Grizzle said St. Cyr was instrumental in her decision to attend school at THS.
Grizzle had seven points and three rebounds in the blowout THS victory.
She said she noticed the Chieftains were as enthusiastic as they'd been on the court all season.
"We've needed to be a little more peppy and cheery," Grizzle said. "You know, cheer for the people who pass the ball, too, instead of the person who made it.
Senior guard/forward Liz Baska led all scorers with 14 points. Senior forward Shannon Carlin added 12 points and eight rebounds.
If there's one area Tonganoxie could look to improve upon, it's free throws. The Chieftains shot 5-of-10 from the line against De Soto.
Looking at some previous games, THS shot 8-of-15 (53 percent) against St. Teresa's Academy (Mo.) and 12-of-26 (46 percent) against Lansing.
The Chieftains won't play again until Friday, Jan. 4, when they play host to the Bonner Springs Braves. Tipoff is 6 p.m.