Christmas trees to be picked up on trash days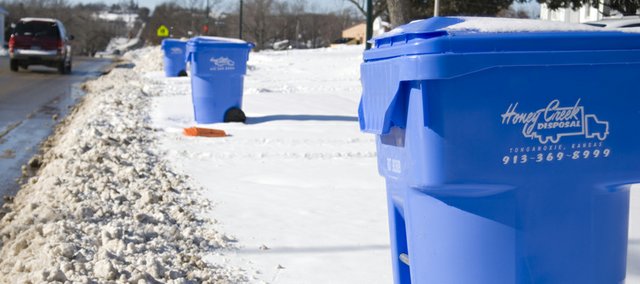 Some Tonganoxie residents might be looking for a place to discard their Christmas tree.
Although the city has been collecting fallen tree limbs for mulch in a vacant lot at County Road 5 and Pleasant Street, it won't be accepting Christmas trees, said Kathy Bard, assistant city administrator.
Instead she said residents would need to leave their trees in their yards for regular trash service.
A residential customer service representative for Deffenbaugh Industries said Deffenbaugh would only pick up trees shorter than 6-feet. Taller trees will need to be cut so no part is taller than 6-feet, and all decorations need to be removed from the tree.
If you plan on waiting until after the new year to throw out your Christmas tree, Kevin Weldon, owner of Honey Creek Disposal, which will take over Deffenbaugh's contract for refuse removal, said his company also will pick up the trees.
"We'll pick up trees usually with a base of less than 3 inches in diameter and there aren't any height restrictions," Weldon said.