City gets new trash service provider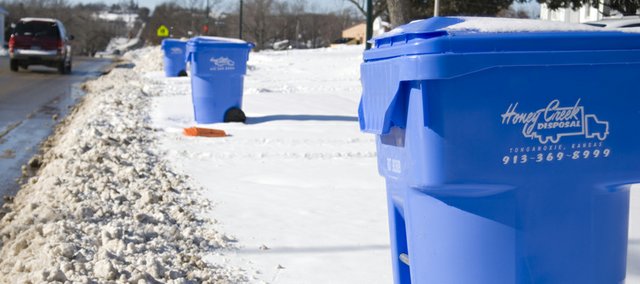 One by one blue trash carts have been popping up around the city in preparation for the transition from Deffenbaugh Industries to Honey Creek Disposal at the beginning of the new year.
Throughout the week Honey Creek has been delivering the 95-gallon trash carts to Tonganoxie residents so they will be ready for the semi-automated trash service.
"We really appreciate the support we've gotten from the city and we are looking forward to serving them," said Kevin Weldon, owner of Honey Creek Disposal.
Tonganoxie City Hall has also been trying to get residents ready for the change. At the beginning of the month, the city mailed out a newsletter to residents explaining the transition to the new waste disposal service.
One major change motioned in the newsletter was the $5 increase in trash charges that will appear on the February water bill. Another major change is the day trash will be collected.
Residents south of Fourth Street and east U.S. Highway 24-40 will have their garbage picked up on Tuesdays. Residents between U.S. Highway 24-40 and north of Fourth Street will have their trash picked up on Wednesday. Everyone else will have their trash picked up on Friday.
"Everything needs to go into the can," said Kathy Bard, assistant city administrator. "They won' take bags sitting next to the can."
Although the newsletters were mailed out, Bard said some people might not have seen them.
City Hall has extra copies of the newsletter for residents who have any questions or if they did not receive the newsletter.
Bard stressed that the carts should not be used until after Jan. 1. Honey Creek observes New Year's Day as a holiday so regular trash service will begin that Wednesday.
Weldon said there is some information on top of the carts and if residents had any questions to give Honey Creek a call at (913) 369-8999.