Junior's pass-before-score attitude contagious at
THS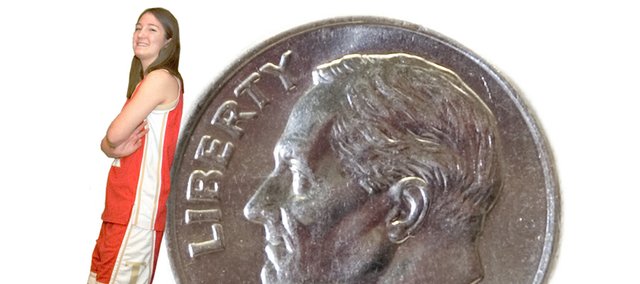 It's not really Chrissie Jeannin's style to steal the spotlight.
Just ask some of her basketball and volleyball teammates.
"It's kind of funny because we talk about how unselfish she really is," senior Tracie Hileman said of the junior. "We're actually trying to get her to be more selfish."
Jeannin, known as CJ to her friends, plays two of the most unselfish positions in all of sports. She's a point guard this winter in basketball and was a setter in the fall for volleyball.
Essentially, it's her job to make the scorers look good in basketball and the outside hitters look good in volleyball.
Her sports mission is similar to the likes of NBA players Jason Kidd and Steve Nash, who collect dimes - or assists - at a more rapid pace than a Corvette travels from zero to 60 miles per hour.
"There's benefits to making others happy on the court," said Jeannin, who has played basketball since third grade and club volleyball since sixth grade. "You just have to know that if you do something for them, they'll do something for you."
Jeannin has done plenty for her teammates. Need proof? She led the third-place Tonganoxie state volleyball team this fall with 833 assists. The next-highest assist total was senior Roxi Grizzle - with eight.
"That tells me that I got to every ball and hustled as much as I could," Jeannin said. "I didn't give up on anything. It was really fun."
In fact, THS volleyball co-coaches Brandon and Tiffany Parker prohibited Jeannin from finishing last in sprints during practice. The way the coaches saw it, the setter was the floor general and the leader. Finishing last wasn't acceptable.
By the end of the volleyball season, Jeannin mastered the art of the pass. Hileman said it got to a point in which the two would only have to look at each other for a split second to know where the ball would be positioned.
Hileman finished the season with 269 kills, while senior Sami Franiuk led Tonganoxie with 325. The vast majority of those kills likely wouldn't be possible without the touch of Jeannin's passes.
"It was kind of hard because they both wanted the ball different spots," Jeannin said. "Sami likes the ball kind of higher and not far off. Tracie likes more of the fast ones, so she can do whatever with it."
Volleyball dimes to basketball dimes
Jeannin's unselfish play translated from the fall to the winter, when THS girls basketball coach Randy Kraft selected her as the Chieftains starting point guard.
She's still working on mastering the basketball pass like she did with the volleyball pass. So far, so good. Jeannin had a game-high five assists in Tonganoxie's first home game against Kaw Valley League rival Lansing.
"She's really focusing on distributing the ball and running things," Kraft said. "Her turnovers are way down. She's kind of worked herself into a point where it's really hard for me to take her off the floor."
In previous years, Hileman said coaches would get on Jeannin's case for her lack of aggressiveness. She was passive about making certain passes and feared turning the ball over.
"She's being a lot more aggressive, which is great," Hileman said. "Now, she's more willing to take a risk. She's willing to take chances, which have led to opportunities for us to score."
Not your typical junior
It's in the middle of basketball practice and Kraft prepares for a drill: "Seniors on the line," he'd say.
Tonganoxie has five seniors - Hileman, Liz Baska, Shannon Carlin, Christy Weller and Cara Carlisle. But every time Kraft calls for that drill, six players plant themselves on the baseline.
The sixth one is Jeannin, a junior.
"She's played with the seniors for so long that when Kraft says 'All seniors go on the baseline,' CJ is right there with us," Hileman said. "She knew he meant for her to be there as well."
Without looking at a roster, it'd be nearly impossible to tell Jeannin's a junior.
The volleyball team had nine players on its varsity roster. Eight of them were seniors. The lone junior was Jeannin.
A quick glance at the starting basketball lineup reveals familiar names - Hileman, Baska, Carlin and Weller - four seniors. Jeannin rounds out the final starting spot.
"It's pretty much like I was a senior myself," Jeannin said. "They really didn't think of me as a junior."
It's evident her teammates think much more of her than a junior, another senior, or even a master of dimes on the court.
"I would just say she's a very deserving person," Hileman said. "I love Chrissie very much and I'm going to miss her lots when I'm gone."