Pageant place
THS

grad breaks out of shell for Miss Kansas event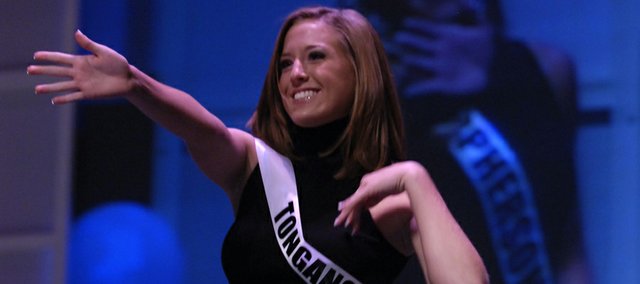 Before competing for the title of Miss Kansas, Laura Shuster's idea of evening wear might have been jeans and a T-shirt; her idea of getting ready to go out might have just included pulling her hair back in a ponytail.
In fact Shuster's mother, Vickie Shuster, always thought of her daughter as kind of a tomboy when she was growing up.
"She had always been the one going hunting and fishing or playing soccer," Vickie said. "She never really wore much makeup. She had to learn how to put on makeup for the stage the day before registration."
But ever since getting on the Lied Center stage with 57 other women from across the state for the competition Dec. 15, Shuster, who graduated from Tonganoxie High School earlier this year, has gone through a transformation, both on the inside and on the outside.
The 19-year-old Barton County Community College student said she was always kind of shy growing up.
She would not normally do something like this, but after talking with her friend Amber DeGraeve, who also competed for Miss Kansas, Shuster was convinced the pageant was something she wanted to try.
"It kind of forced me to out of my comfort zone,' Shuster said. "I'm definitely less shy now and I just have a lot more self confidence."
Vickie Shuster agrees that the pageant has boosted her daughter's confidence.
"It was very positive experience for her," Vickie said. "She had a blast."
This was the first time Shuster has competed in a pageant.
She was fortunate enough to be roommates with DeGraeve during the competition. DeGraeve gave Shuster advice and practiced with her for the opening dance performance.
Shuster said that meeting really friendly and helpful people also helped ease her shyness.
"Just having fun with everyone helped with stress and helped get rid of my butterflies," Shuster said. "I was going to relax and have fun."
Shuster said she now likes to wear a little more makeup every day and she likes to put on nicer clothes.
Although she did not make it to the semifinals or get an honorable mention, Shuster said she didn't think she was going to get very far her first year and she plans on giving the competition a try next year.