THS

struggles with full-court press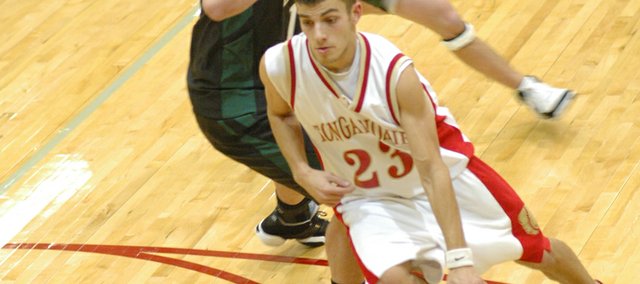 It was evident that the De Soto boys basketball team adopted the intensity of its coach when it traveled to Tonganoxie last week.
De Soto coach Jim Bonar orchestrated a full-court press the entire game. Bonar was a noticeably energetic and articulate force from the sidelines.
The Wildcats played with similar exuberance and overwhelmed the Chieftains with their defense, which took place in a tenacious manner and lasted the entire 90 feet of the court.
"They're very scrappy," Tonganoxie coach David Walker said, following his team's 53-44 defeat on Dec. 18. "It's not what I would call a formal press. It's a little chaotic and that's not to negate it at all. But they go after the ball."
Tonganoxie turned the ball over 19 times. After many giveaways, Bonar would yell for his players to sprint to the basket for fast-break layups. His voice was hoarse by the second quarter.
"We knew that that's what they were going to do," Walker said of the De Soto press. "In the first quarter, we were able to get the ball to the basket, but it just wouldn't fall for us. If the ball's not falling, everything else seems to get more difficult, so we struggled with the press after we missed the cribbies (easy baskets) early, then played from behind the rest of the night."
Tonganoxie had success against De Soto's man-to-man full-court press. As a result, the Wildcats switched to a zone full-court press, which seemed to confuse the Chieftains.
Tonganoxie dropped to 1-5. However, the Chieftains are very young. Only three seniors - Gabe Belobrajdic, Keith Wentz-Hall and Logan Forbis - log regular minutes. Only two seniors start.
Walker said the team had the capability to turn the corner and start winning some games after the holiday break.
"As long as they keep believing that when those shots do start falling, good things will happen," Walker said. "We're making strides in the right direction. We'd like to see that transpire a little bit quicker, but sometimes with a young team, you have to have some patience."
Forbis missed the De Soto game with an injured back, but the senior said he'd be back in time for the next game, which will take place Jan. 4 at home against Bonner Springs.
In Forbis' typical spot, senior forward Tyson Letourneau stepped in and logged 20 minutes, scored nine points and grabbed six boards off the bench.
"I think we're a solid team, but we're just not doing the little things," Letourneau said. "We just need to box out and cool down a little bit and not push it so fast. A lot of times, we come out flat. We always come back because we get some intensity toward the end."
Indeed, Tonganoxie outscored De Soto, 17-10, in the fourth quarter, but it was too late.
Senior Gabe Belobrajdic led the Chieftains with 11 points, eight boards, three steals and two blocks.
Jamell Townsend paced De Soto with 18 points and 15 rebounds.
"We're still defining ourselves, but I think that they're viable and they're going to bounce back," Walker said. "They've never given up working hard in practice."