Bobcat on way to recovery after being struck in Lansing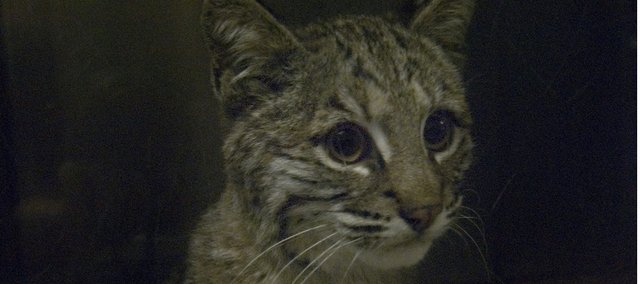 Linwood — A 4-month-old bobcat rested inside a metal pen after eating her lunch.
She got on all fours, but the head injury she sustained after being hit by a car in the early-morning hours of Dec. 19 near Lansing made her wobble around as she tried to balance herself.
Sheryl Saunders, animal care coordinator for Operation Wildlife, a nonprofit organization near Linwood that rehabilitates injured or orphaned wildlife, said it would be a few months before they would know the extent of the bobcat's injuries and whether she would survive.
"Brain injuries take a long time to heal," Saunders said. "With a head injury, it wouldn't be right to keep her alive if she can't find her own food or walk straight."
Although the bobcat's fate is still unknown, Saunders has high hopes for the animal, which was brought to her in a nearly comatose state but is now able to move around and has bulked up to 8 pounds.
The bobcat's life was spared when Keith Krouse and his 17-year-old son, Kolby, along with Krouse's friend Billy Morris, found her alongside Eisenhower Road.
They put a blanket over the animal and called animal control.
"We saw her on the right side of the road," Krouse said. "We got out and looked at her, and she raised her head up so we knew she was still alive. She was so colorful that we knew she wasn't somebody's ordinary house pet."
When Jim McGee, animal control officer for the Lansing Police Department, arrived, he said he checked and found that the bobcat had a stable pulse. Judging from the bobcat's injuries, McGee thought she had been hit about an hour before being found.
McGee took the injured bobcat to Operation Wildlife.
Krouse has called the organization a couple of times since the incident to check on the bobcat's progress.
Both Saunders and McGee stressed that injured or orphaned animals, especially infant animals, may look cute but can still be dangerous or harbor diseases. The proper authorities should be notified when such an animal is found.
Saunders and the volunteers at Operation Wildlife will continue looking after the bobcat and other injured animals and said they are always looking for volunteers and donations to help pay for the animal's rehabilitation.