Andover Central tops Tonganoxie
After their heartbreaking overtime loss Friday night, Saturday's noon game didn't give Tonganoxie much time to heal -- and it showed.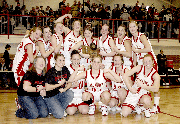 The Chieftains fell early to Andover Central, 24-9, and could never regroup, losing 55-46.
With the loss, the Cheiftains ended their year with a 23-3 record and fourth place in the state tournament.
The results were eerily similar to Tonganoxie's last trip to state, in 2005. That year, Tonganoxie lost in the semifinals, also in overtime, to Buhler. Tonganoxie then lost the next day to Wichita Collegiate, while Buhler went on to win the state championship.
This season, THS again placed fourth after losing to Colby in overtime in the semifinals.
On Saturday, Colby, like Buhler, went on to win the state championship. CHS defeated Augusta, 58-46, in the championship and finished its season at 24-2.
For more on the Chieftains in the tourney, pick up Wednesday's edition of The Mirror.
Chieftains fall in OT
Two nights, two overtime wins for the Colby Eagles.
After advancing to the semifinals in the Class 4A state tournament last night with a double-overtime win over Columbus, Colby again found itself in an overtime game Friday against top-seeded Tonganoxie. And for the second night in a row, the Eagles prevailed.
Final score: Colby 73, Tonganoxie 67.
The Chieftains, now 23-2 on the year, saw their hopes for a first state title vanish in the 4-minute extra period. They'll now play Andover Central for third place at noon Saturday.
"Physically, we can do it, it's just that it will be all mental," THS junior Elizabeth Baska said. "Third-place games are always the hardest to play for because everyone wants first and not as many people want third. So it'll be all in our heads tomorrow."
Dance team performance time to be determined
The Chieftain Stars dance team is scheduled to perform at halftime of the Class 4A state tournament boys championship game Saturday in Salina.
The game is scheduled to start at 6:30 p.m.
What to do while in Salina
Anyone wearing Chieftain red has one thing in mind this week if they're in Salina -- basketball.
But when the Tonganoxie High girls team isn't playing in the state tournament, Tonganoxie fans do have some options during their "free time."
Here are a few attractions Salina and the surrounding area have to offer, just in case fans need a break from the roundball.
Salina
ATTRACTIONS
Central Mall Aquarium, 2259 S. Ninth St., (785) 825-7733. The mall houses Kansas' largest free-standing aquarium featuring native marine life.
Historic downtown district -- Santa Fe Avenue. Attractions include specialty shops, arts, museum, theater and period architecture.
Jumpin' Joe's Family Fun Center, 1634 Sunflower Lane, 1 mile south of Crawford on Centennial, (785) 827-9090. Family center including go-carts, 36-hole miniature golf, laser tag, arcade, and group gathering accommodations.
Outpost Restaurant Fun Center, 2155 N Headville Rd, Salina,(785) 820-9500. Family fun, go-carts, bumper boats,arcade and more.
HISTORIC HOMES AND BUILDINGS
Auld Lang Syne 101 N. Santa Fe, (785) 825-0020. Antiques showcased in historic building.
MUSEUMS
Central Kansas Flywheels Museum, 1100 W Diamond Dr., (785) 825-8473. Antique tractors, washing machines, radios, stationary engines, and more.
Salina Art Center, 242 S Santa Fe, (785) 827-1431, Contemporary art and education center.
Smoky Hill Museum, 211 W. Iron. (785) 826-7460. Step into the past in our 1850s sod dugout, children's hands-on gallery, and regional history exhibits.
PARKS AND ZOOS
Rolling Hills Refuge Wildlife Center, 625 N Hedville Rd., (785) 827-9488. Kansas' newest wildlife park features more than 80 species of animals on 145 acres of land. The center is located six miles west of Salina on Interstate-70.
SCIENCE AND TECHNOLOGY
Lakewood Discovery Center Lakewood Park, located at Iron and Indiana streets, (785) 826-7335. Center includes with animals and plants. Learn how to identify birds, about insect life cycles, geology, prehistoric life and urban wildlife habitat.
VINEYARDS AND WINERY
Smoky Hill Vineyards and Winery, 212 W. Golf Link Rd., (785) 825-2515. Taste over 25 wines made from grapes grown in the European-style estate vineyard.
Smolan
Hickory Tree Smolan School, Third and Walnut in Smolan, (785) 668-2164. Built in 1926, the old school has been transformed into a restaurant with all rooms decorated in old school memorabilia. The school's gymnasium is the focal point of the restaurant, with a buffet available Fridays and Saturdays form 5 p.m. to 9 p.m. and Sunday 11 a.m. to 2 p.m. Smolan is located about seven miles south of Salina on Interstate-135. Smolan is a short distance west of I-135.
Abilene
Brookville Hotel, 105 E. Lafayette Ave., (785) 263-2244. The restaurant, famous while it stood originally in Brookville, now is a hot spot in Abilene. A replica of the structure was built just north of Interstate-70 In Abilene. Chicken and family-style dining is the forte as bowls of food are brought to the table and passed around by the patrons.
Eisenhower Library and Museum, 200 Southeast Fourth St., 1-877 RING IKE or (785) 263-6700. Campus also includes Eisenhower family home. Hours are 9 a.m. to 4:45 p.m., including weekends.
Tonganoxie 45, Abilene 36 FINAL
Tonganoxie's engine was missing a sparkplug Thursday in the Class 4A state quarterfinals.
Luckily in the third quarter, though, Tracie Hileman was the missing part that got the Chieftain motor revving into the semifinals.
Trailing midway through the third quarter, THS assistant coach Jon Jacques challenged the Chieftain players.
"Coach Jacques said we needed a defensive spark and I said 'OK,'" Hileman said.
Sure, Hileman's play ignited the defense, but it was an assist to Ali Pistora for a close-range bucket on the offensive end that got the Tonganoxie crowd back in the game. And, Hileman followed that with another bank shot -- after she followed her own miss. Finally, still in the third, Hileman laid in another bucket and was fouled on the play. She wasn't able to convert on the old-fashioned three-point play, but her four points were good enough to push Tonganoxie forward into the fourth.
"That just came with the defensive sparks," said Hileman, who finished the game with those crucial four points.
THS coach Randy Kraft took notice of Hileman's play.
"She was a big lift," Kraft said. "Her defense was great."
In the final quarter, Tonganoxie was able to pull ahead and Abilene (20-4) was forced to foul late.
Tonganoxie pulled away with a 45-36 win and advanced to the state semifinals.
THS improved to 23-1 and will play again at 6:30 p.m. Friday against Colby. Colby defeated Columbus, 63-53, in double overtime. Colby improved to 22-2, while Columbus ended its season at 21-3.
Pistora led Tonganoxie in scoring with 13 against Abilene, while Elizabeth Baska chipped in 10.
Ostermann led Abilene in scoring with 12.
No. 2 Holton ousted in quarterfinals
No. 7 Augusta knocked off No. 2 Holton, 60-48 in the first game of the 2007 Class 4A girls state basketball tournament. The Orioles defeated the Wildcats and improved to 22-2, while HHS ended its season with the same record.
Augusta will face the Andover Central. ACHS defeated Paola, 70-64 in that quarerfinal contest. The game will begin at 3 p.m. Friday.
Photo gallery of Thursday morning's team send-off available in The Mirror's photo gallery section
Check out photos from the sendoff from downtown Tonganoxie on this Web site. The photo gallery section is available on our Web site's left rail on front page.
Tonganoxie girls make jaunt through downtown Thursday morning
Fans came out in droves to wish the Tonganoxie High girls basketball team luck as they headed Thursday morning to the state tournament in Salina.
The team bus left the high school around 9:45 a.m., complete with a police escort, and headed south to Tonganoxie Middle School where students greeted the team.
The entourage then traveled back to Fourth Street and stopped at The Light Bulb Place and took down a congratulatory sign with all the players names and numbers inscribed on it. After posing for photos with the banner, the bus traveled west on Fourth Street as players waved out the bus windows to fans lining the street.
The group's last stop was near the elementary school, where players once again filed out and exchanged high-fives with excuberant TES students who held various banners, including one that read "Got Cookies?" The sign was in reference to the team's tradition this year of assistant coach Lindsey Graf making cookies for players who take charging fouls during games.
With students gathered around the team, senior Ali Pistora said a few words, thanking the youths and encouraging them to one day fill their shoes.
"I hope someday you'll grow up and be us and go to state," Pistora said.
The Chieftains will play in their second Class 4A state tournament in the last three years when the top-seeded Chieftains (22-1) take on No. 8 Abilene (20-3) at 6:30 p.m. Thursday at Salina's Bicentennial Center.
Piper tops Andover-Central on Wednesday in boys quarterfinals
The Piper High boys are headed to the 4A state semifinals after Wednesday's 52-49 win against Andover-Central. Piper (21-3) trailed 12-5 after the first quarter, but bounced back in the second and went into halftime with a 21-19 lead.
Austin Bond led Piper in scoring with 18, while Nate Daniels scored 15. The teams were tied four times, and there were eight lead changes during the game.
Andover-Central ended its season at 19-5. Piper will meet Thomas More Prep-Marian from Hays. TMP defeated Atchison, the Tonganoxie Invitational champion, 56-50.
On the other side of the bracket, No. 1 Girard defeated No. 8 Andover, 56-42. And No. 5 Fort Scott bettereed No. 4 Smoky Valley, 66-47.
Piper and TMP-Marian will meet at 4:45 p.m. Friday, while Girard will play Fort Scott at 8:15 p.m.
Piper 52, Andover-Central 49
Andover-Central 12 7 17 13 -- 49
Piper 5 16 17 14 -- 52
Check back to The Mirror's Web site for more state basketball coverage.