Police searching Tonganoxie for attempted murder suspect
Man wanted for beating and rape of Topeka woman
Law enforcement officers are searching in Tonganoxie this morning for an attempted murder suspect from Topeka.
Officers also are searching an abandoned red Buick Skylark near a Sonic Drive-In on U.S. Highway 24-40.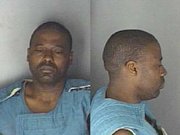 Early this morning, a Tonganoxie police officer who was on routine patrol saw a car he thought was suspicious. The officer determined the car had been stolen in Topeka.
A Topeka police officer, who is in Tonganoxie, said the attempted murder and rape occurred in North Topeka. The victim is a Topeka woman in her 40s. She is in a Topeka hospital and was listed in serious condition.
Officers said they believe the Buick found in Tonganoxie belonged to the victim.
Officers said they interviewed a Tonganoxie resident who told them that he saw a man matching the suspect's description walking near the Sonic about 11 p.m. Thursday. Another neighbor said the car had been in the neighborhood since Wednesday night.
This morning, police also searched the Tonganoxie High School campus before allowing students inside.
Officers are using the Jefferson County K-9 unit in their attempt to find the suspect, who is described as a black male, 40 years old, 5-foot-6 and 170 pounds.