Chieftains chase each other at practice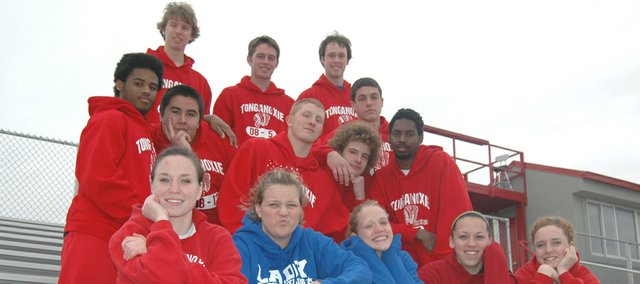 It is any given afternoon at Tonganoxie High track practice.
A line of female runners prepares to take off and some 50 to 60 meters behind them a group of boys does the same.
Girls track coach Chris Weller calls it a cat and mouse drill. THS sprint coach Bill Shaw uses it frequently and the Chieftains' boys and girls benefit from the competitive nature of the drill. They develop a greater sense of camaraderie as the starter pistol fires, the race begins and the THS boys try to chase down their female counterparts.
Senior long jumper Sami Franiuk said drills like that one make the THS track team better and closer.
"We push each other," she said. "We've grown up with these boys. They're like brothers to us."
That much was obvious as senior runner Wesley Armstrong chimed in following Franiuk's comment during a recent practice.
"We literally push them," he joked, making a shoving motion and laughing.
Franiuk said the girls shove right back by making the guys work harder in the drills.
"Guys have to show up the girls," she said. "They start slacking off and we get the bragging rights."
Armstrong agreed and said that serves as a little extra motivation at practice.
"They keep us in shape because the better they're in shape, the better we get," he said.
Ultimately, Franiuk said, the whole team is better for the experience because the close-knit group that exchanges sibling-like barbs at practice feels like a family when it competes at a track meet.
"You won't see a Tongie person doing an event by themselves," she said. "You'll have teammates out there - people who do the event, people who don't do the event - out there cheering for them because in the end it comes down to team score, team points, and we all want Tonganoxie to succeed, so we're all out there cheering each other on."
That sense of team is present for boys and girls, and THS boys track coach Phil Williams said when his guys compete at a meet he emphasizes that concept.
"We look at track as a lot more of a team sport than a lot of people do," Williams said. "We don't have a lot of stars, but we have a lot of depth."
The coach said his guys have set some high goals for this season and they have been working hard at practice to attain them.
"There are some kids here that really think they can get state medals, and we haven't had too many of those in the boys division for a few years," Williams said, adding that he expects the boys to be led by their throwers this season.
Williams said senior Gabe Belobrajdic should compete for a Class 4A state medal in the javelin, senior Kendrick Whittington and junior Austin Smith are expected to do well in the high jump and senior Tyler Gurss could compete for a state medal in the discus. The coach added there is a lot of potential in the underclassmen ranks as well.
The girls team had seven state-medal winners last season and six of them return this year for coach Weller, who expects them to repeat or improve upon last year's results.
"I'd be very disappointed if they don't," he said.
Roxi Grizzle, who already has signed to throw javelin in college at Nebraska, should be the No. 1 threat in that event and her younger sister, junior Roni Grizzle, and junior Chrissie Jeannin have a shot at making state in that event as well.
Senior Christy Weller broke a school record last year in the 800 and the THS 4x800 relay team finished seventh at state last season, falling just a second shy of the school record for the event.
Senior jumper Tracie Hileman, who was very ill last season, missed the regional meet and therefore didn't qualify for state, but she went in 2006 as a sophomore.
Hileman has led the Chieftains in points each of the last three years. If she stays healthy, she could be the school's all-time leader in points when she graduates.
"We're looking at having a really great year if everything falls into place," Weller said.
THS competed at Lansing on Tuesday. Visit www.tonganoxiemirror.com for results.