Commissioner to seek re-election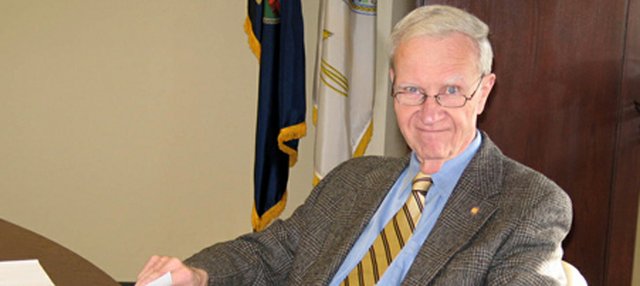 Leavenworth County Commission chairman Clyde Graeber has thrown his hat into the political ring again.
Graeber announced Thursday he would seek a second term for the commission's 2nd District seat, which covers central Leavenworth County, including the city of Lansing and Delaware Township. Graeber was first elected to the position in 2004.
The Leavenworth Republican has served as a member of the Leavenworth City Commission, Leavenworth mayor, was a 12-year member of the Kansas House of Representatives, secretary of the Kansas Department of Health & Environment and Kansas state treasurer.
In a statement, Graeber said the county has many projects pending - including the expansion of the work release area at the County Jail, the north Emergency Medical Services station and a countywide communications upgrade - that he would like to oversee to their completion.
He also said he would like to help make the transition with a new county administrator as smooth as possible. In regard to County Road 1 improvements and a turnpike interchange, Graeber said he could "contribute to a resolution of this matter that may be acceptable to all involved."
Graeber further noted, "The working and supportive relationships (between cities and communities in our county) have been greatly improved since this commission came on board, and I want to continue improving that cooperation for the mutual benefit of our whole county."
As of yet, no other candidates have filed for Graeber's 2nd District seat. The filing deadline is June 10.
Also up for grabs in the Nov. 4 general election is Commissioner Dean Oroke's 3rd District seat.
As of yet, John Flower, a Bonner Springs Republican, is the only person to file for that position.
The 1st District seat now held by Commissioner J.C. Tellefson, who was elected in 2006, will not be up for re-election until November 2010.