Forbis, Lowe pitch Chieftains to 2-0 start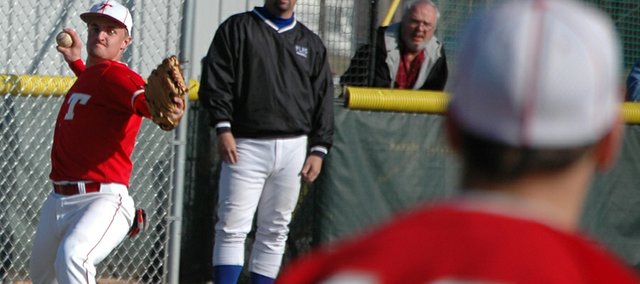 Opening day was far from pretty for the Tonganoxie High baseball team Thursday. The Chieftains did win on the gray and chilly afternoon, but the weather and the outlook for the season improved vastly on Friday at Leavenworth County Fairgrounds when THS defeated visiting Perry-Lecompton, 9-1.
A day after senior pitcher Logan Forbis threw a full seven innings and struck out eight, Erick Lowe worked six innings, striking out five and allowing six hits.
Although their first two opponents scored just two runs in the first two games as THS started its season 2-0, neither run was earned and neither Forbis nor Lowe allowed a walk.
"You throw 13 innings without a walk, you're doing something pretty well," coach Phil Loomis said of his two starters. "Those two have been given the responsibility. The load's on their shoulders. If they want to feel successful with this team, they're going to have to accept that responsibility. They've done a real good job of that."
The walk-less streak ended in the top of the seventh against Perry when reliever Todd Brown walked two batters, but the Chieftains pitching staff is off to a solid start. Lowe said they might not be overpowering batters, but that didn't concern him.
"If you're throwing strikes you're going to get some outs and good defense helps," he said. "Keep it in the strike zone, try to get ground balls."
Forbis said they can afford to do that because of the defensive players backing up the hurlers.
"We trust them a lot. Last year I tried to throw as hard as I could," Forbis said of his old mentality, adding that he now just makes sure to throw strikes. "Let them hit the ball and the defense will take care of us."
The offense, as well, against Perry-Lecompton was much improved 24 hours after producing a pair of runs, but Loomis said the cold bats that day were the result of cold weather and had the Chieftains played the Kaws in similar conditions on Friday the scoring might have been lacking.
That, however, wasn't the case. The sun was shining and the bats were pinging when Chieftains weren't taking their walks. THS drew six walks and had 11 hits in six innings against Perry-Lecompton.
Junior second baseman Jace Waters went 3-for-3 with a run and two RBI. Junior Blaize Oelschlaeger, who was one of three Chieftains to give catching a try on Friday, went 2-for-3 and scored twice. Senior Keith Wentz-Hall scored three runs for THS in the victory.
Forbis said the nice start was just what the team, which was sick of losing, needed.
"I think we're a lot more focused and wanting to win," he said. "If we didn't win these first two games there's no way we'd have a chance for state."
The end of the season is a long way off now, but Lowe said he expects the Chieftains to be much improved by then.
"Our goal is to get better every game," he said. "These past two games are going to be our worst ones of the season. We're just going to keep getting better and better."
If that proves to be true, Loomis said the team, which went 8-9 last season, will have to deal with its newfound success.
"This group has to learn how to handle winning and find out that it's a good thing," he said. "Before, I think more times we accepted losing and once they find out you shouldn't accept losing, winning feels pretty good."