Four just fine for McLouth track seniors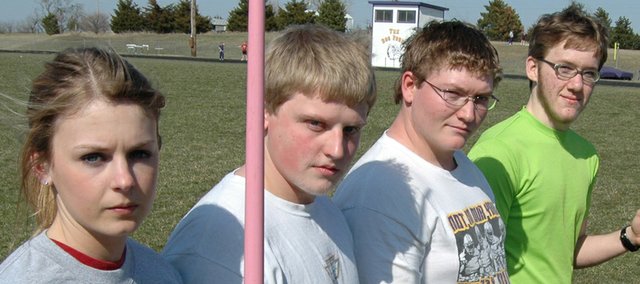 Numbers can be misleading.
Glancing at the McLouth High track team's senior class, which consists of Leah Hoffhines, Grant Smelser, Jesse Snyder and David Buckley, it would be easy to assume that there is not much depth on the team in 2008.
That simply is not the case.
The four seniors are far outnumbered by juniors, sophomores and freshmen. There are 22 girls competing this year, which girls track coach Gerald Aligo said was "unheard of" in recent years.
Sure, the team is young, but boys coach Gary Freeman doesn't mind.
"I'm always going to take that," he said of depth, regardless of experience. "You have your difficulties with teaching kids up - coming from the middle school level, the high school level is a different animal. At the same time, though, I think the benefits far outweigh the risks. I think there's nowhere to go but up."
Even a quarter of the senior class is green. Buckley, a shot and discus thrower, joined the team this spring with no previous field experience. But that doesn't bother Smelser - a veteran with running, relay and javelin experience. He hardly gives the size of the senior class a second thought.
"I don't really think about it much because I'm friends with a lot of the underclassmen," Smelser said, adding that it is only noticeable when the senior boys are prompted to lead, support or congratulate the younger athletes by Freeman.
Hoffhines isn't concerned with being the only senior on the girls side either.
"A lot of our upperclassmen are good leaders and we just fit in well together," she said.
Freeman thinks the boys will have some success in relay events and has the potential to finish from the middle to the top of their events this year.
The girls might have even more potential. Talk of winning a meet or two and contending for a Delaware Valley League title are prevalent.
"We've got a little bit higher expectations," Aligo said of this season. "We can actually maybe win a couple of meets this year because we have enough events covered."
He said in previous years the girls knew going into meets that they wouldn't win because they didn't have the numbers to compete with other schools in scoring. The approach then was to use the regular season to train individuals for regional and state competition.
This year could be different.
"Hopefully we'll come home with a couple of trophies," Aligo said.
As the lone senior on the girls team, Hoffhines has some high expectations for herself this year as she competes in javelin and discus events for the final time in her prep career. She has been working on her javelin technique by lofting throws through the uprights of the football goalpost on the practice field and Hoffhines hopes to improve her distance as the season progresses so she can qualify for state. She said being a senior has changed her approach.
"It puts a lot of pressure on because I've got big goals and this is my last year to reach them," she said.
Aligo said after coming close to qualifying for a regional spot in the javelin event last year, Hoffhines now has motivation to get there. But he warned her not to place too much pressure on herself.
"Sometimes I feel sorry for the seniors because now they're on the clock," Aligo said. "They want to perform and they want to do well and sometimes it works to their disadvantage."
If Hoffhines avoids that scenario, she could be one of a number of MHS athletes to get to state, and those are the only numbers the Bulldogs care about.