Jubilee becomes country music hotspot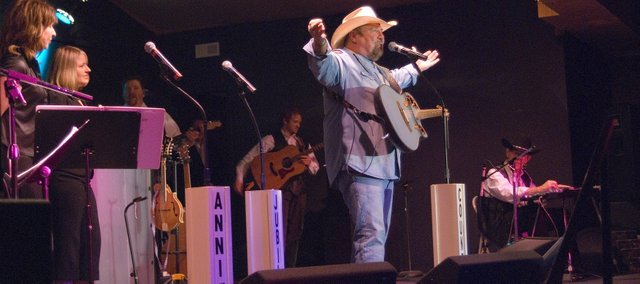 If you think of country music hotspots in the United States, Nashville, Tenn., and Branson, Mo., probably come to mind.
And if Terry and Annie Dunavin have anything to say about it, soon Tonganoxie will be on that list.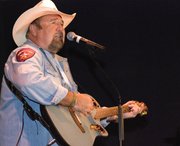 "Some people say that we are one of the best-kept secrets in Kansas," Annie said.
In about five years the Dunavins have been able to transform the old Glen's Opry in downtown Tonganoxie to a local country music mecca that fills the Fourth Street parking spaces with vehicles belonging to in-state and out-of-state guests on the weekends.
In fact, they have become so confident in their success they are sure if someone stops by to see their show once, they'll soon be back again.
"What's nice about our show compared to Branson is you get to see an outstanding show every Saturday night, it's always different, it's a third of the price and you get to sleep in your own bed," she said.
The Dunavins have been building their country music reputation by providing guests with a fun family show and by booking some local and national acts such as the Bucky Flower Family, Green Side Up and most recently Jonny Lee, the original "Urban Cowboy."
What has helped bring in more performers is not just the word-of-mouth endorsement about the 400-seat venue, but also the talented house band, Annie said.
And if you don't want to take her word for it, you can just ask Lee who played two shows Saturday in Tonganoxie.
"We never even rehearsed before the show," Lee said. "They just totally blew me away. If I had to go anywhere right now I would feel comfortable taking them on the road with me to back me up."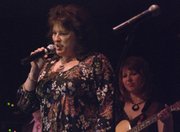 Another secret to her success is to utilize the assets of the community, whether it is working together with local restaurants and the bed and breakfast to offer packaged discounts. Or, if it is using items that are part of the town's history, such as the curtain and chairs from the former Tonganoxie High School auditorium. This goal of remaining community focused gets Annie excited about all of the new possibilities that may come out of the new County Road 1 interchange.
"This is when we need to work together and build a better Tonganoxie," Annie said. "Lets build it to be a place where people can do some shopping in the afternoon, eat a meal here in the evening and finish it off with a good country show."
Although she has some ideas about Tonganoxie's future, she wants to see more participation from the residents. One of these Saturday night's she hopes of reaching another goal, to get at least 100 Tonganoxie residents to take in one of their shows.
"Until you come and see it you can't appreciate what Tonganoxie has because it's unbelievable," she said.