Tonganoxie golfers enjoying fresh start with new coach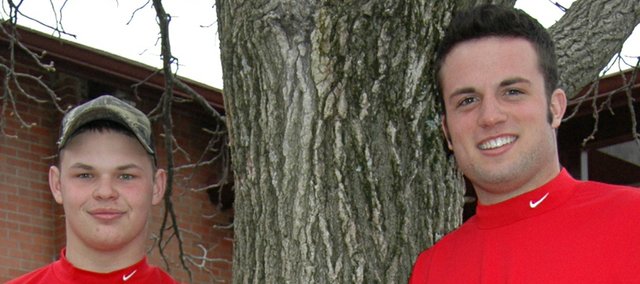 A new season and a new era began for the Tonganoxie High boys golf team Saturday when the Chieftains hit the links for the first time this season at the Sunflower Classic in Bonner Springs.
THS finished fourth at the 10-team event and the team's two seniors, Drew Scates and A.J. DeMaranville, said it's a sign of things to come under first-year coach Jared Jackson and assistant David Walker.
"Our new coaches, they've been helping us a lot with focus and trying to get our game to the best that it can be," Scates said.
DeMaranville said the team has been learning more about the techniques of a proper golf swing this season and he thinks the Chieftains will be better than ever because of their newfound knowledge.
"I think we've got a pretty solid team," he said. "Everybody that's playing on the varsity team this year is pretty legit."
Jackson said when he took over as coach he told his golfers that they could improve this year if they take a serious approach.
"When you get a new coach that comes in with new ideas you're going to run things a little bit different," he said, adding that the players have responded to his teaching.
Four of the five THS golfers broke 100 on Saturday at Sunflower Hills Golf Course. Scates shot a 97 and DeMaranville finished with 103 strokes.
Scates said he expects the team's scores to drop as the golfers get more practice.
"It's always good to get that first tournament out of the way and just get into the season," he said.
DeMaranville shot a 48 on the front nine, but said he lost his mental focus and played "horrible" on the back nine when the course got longer with a lot of up-and-down holes.
"It isn't my worst, but it's not my best," he said. "I definitely could've done better."
Mental lapses, Scates said, hurt his score as well.
"There were a lot of things that I've been working on that I really did well with on Saturday," he said. "It was just a couple of mental mistakes that caused me to have those extra strokes."
Jackson, who got to watch the golfers in a competitive environment for the first time on Saturday, said the team is capable of playing better.
"I don't want to place any limits on my thoughts of what these guys can do," he said of this year's expectations. "I was pleased with their performance."
The coach thinks with time and repetitions, steady improvement in inevitable.
"It's small steps. It's not going to happen overnight," Jackson said. "We're probably not a team that's going to be favored to win state anytime soon, but if they continue to improve and do the right things we'll be OK."
Tonganoxie has a dual with Kansas City-Washington at 3 p.m. Thursday and will compete at the Lansing Invitational at 3 p.m. Monday.