Tonganoxie City Council agenda for April 7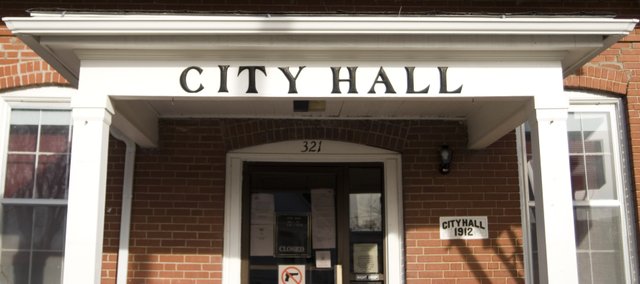 I. Open Meeting 7:00 p.m.
II. Consent Agenda - (Routine & Customary Items)
a. Approval of Minutes
1. Special Meeting dated March 26, 2008
2. Regular Meeting dated March 24, 2008
b. Consider Approval of Bills Approve Pay Ordinance A-1579
c Consider approval of Pay Request #2 to Meadows Construction in the amount of $52,153.96 for work completed on the Pleasant Street project
d. Consider approval of Pay Request #7 in the amount of $403,484.00 for work complete at the Aquatics Center.
III. Open Agenda
"Members of the public are welcome to use this time to comment about any matter relating to City business. The comments that are discussed under Open Agenda may or may not be acted upon by the Council during this meeting. Please wait to be recognized by the Mayor, then state your name and address and all comments are to be directed to the chair."
IV. Old Business
a.
V. New Business
a. Blake Waters - 2011 Sampler Festival
b. US 24/40 Highway Corridor Interlocal Agreement
c. Consider lease purchase of two police cars (info to be provided at meeting)
d. Consider Step increases for two officers from six month evaluation
e. Consider Water Rate Adjustment to accommodate the wholesale water rate increase
f. City Administrator Agenda & Report
1) Draft Skate Park Design
2) Survey of Kansas Communities Support for museum / historical society
k. City Attorney Agenda
l. Mayor's Agenda
m. Council Presidents Agenda
n. City Council Agenda
VI. Adjourn
VII. Information & Communications (No Action Required)
a. Leadership Summit and 2008 Mayor's Conference
b. KMIT City Safe Newsletter March/April 2008