Commissioners field questions about
CR

1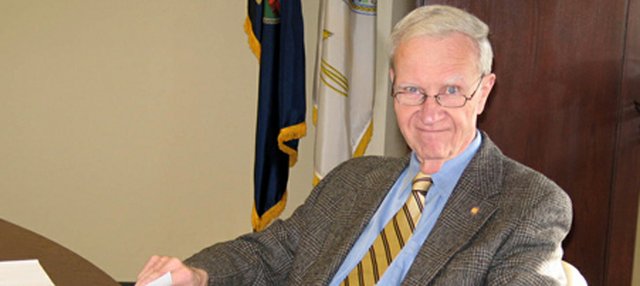 Leavenworth County residents brought more questions and concerns regarding work to County Road 1 before county commissioners Monday morning.
Kerry Holton, who lives at 17312 206th St, was the most vocal member of the public, asking about the commission's plans to extend the project southward, its vision for development and how it will finance the endeavor. The interchange will give Leavenworth County its first direct connection to the federal interstate system.
According to Holton, a recent traffic impact study projected that more than half of motorists using the planned interchange would exit south. He insisted on knowing whether commissioners intended to extend the project south of Kansas Highway 32.
Although Commissioner J.C. Tellefson acknowledged Holton's numbers were spot on, he maintained that the county does not support funding improvements for the road south of K-32.
"As far as I'm concerned we're not going to do anything south of 32," Commissioner Clyde Graeber concurred.
Holton then asked Tellefson directly what type of development he envisions for the County Road 1 corridor.
"I hope that we will see good, desirable industry," Tellefson said, adding that 2,000 to 3,000 acres could be developed to include industry, high-end residential real estate, while preserving 10 percent of the land as farm ground or green space.
"We just don't want anything that is hodgepodge put together," he said. " : We want to make sure that developers pay to develop and that benefits are enjoyed by everyone."
Holton's final question was whether there would be tax abatements available to developers who build along CR-1.
Although Tellefson said he is generally not in favor of such incentives for developers, he added he is "not making any promises there."
"Sometimes you do have to," he said, "because I want jobs for your kids, for my kids for everybody's kids."