Host McLouth faces stiff competition at invitational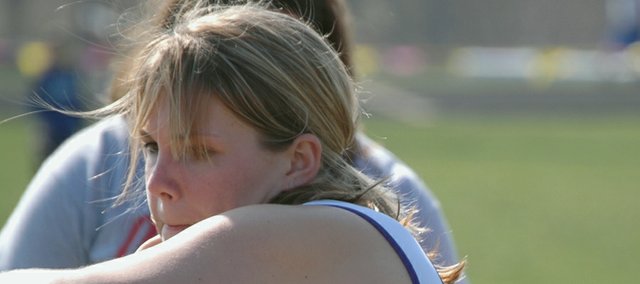 McLouth — The McLouth High track teams got a chance to compete in front of their home fans on Friday at the McLouth Invitational, but the competition was fierce.
The girls team finished sixth at the home meet and the boys finished 10th. The Jefferson County North girls took first, as did the Wathena boys.
Chanler Tharpe won the girls pole vault with a jump of 6 feet, 6 inches.
Girls Team Standings, Points
1. Jefferson County North, 103
2. Jackson Heights, 101
3. Christ Prep, 100
4. Troy, 80
5. Horton, 65
6. McLouth, 55
7. Immaculata, 29
8. Wathena, 7
9. Kansas City Christian, 5
10. Oskaloosa, 5
Boys Team Standings, Points
1. Wathena, 115
2. Jefferson County North, 95.5
3. Jackson Heights, 80.5
4. Christ Prep, 75
5. Oskaloosa, 53
6. Kansas City Christian, 42
7. Horton, 36
8. Immaculata, 24
9. Troy, 23
10. McLouth 12
McLouth Girls Results
Long jump - 3. Miranda McLaughlin, 14 feet, 8.25 inches
Triple jump - 4. Jordan Sparks, 28-5
Pole vault - 1. Chanler Tharpe, 6-6, 3. Kasey Campbell, 6-0
Shot put - 6. Jeri Holwick, 29-1.25
Discus - 5. Leah Hoffhines, 89-2
Javelin - 5. Leah Hoffhines, 100-7
100-meter - 5. Courtney Chilcoat, 13.61
400-meter - 5. Courtney Chilcoat, 1:09:11
100-meter hurdles - 3. Anne Courtney, 18.05
300-meter hurdles - 4. Anne Courtney, 52.96
4x100 relay - 4. 55.11
4x400 relay - 5. 4:44.90
4x800 relay - 5. 13:23.92
McLouth Boys Results
Pole vault - 5. Chris Culter, 8-0
100-meter - 6. Skyler Terry, 11.90
400-meter - 6. Chris Culter, 56.24
300-meter hurdles - Adam Gray, 46.90
4x400 relay - 4. 3:50.96