Baby born premature celebrates first birthday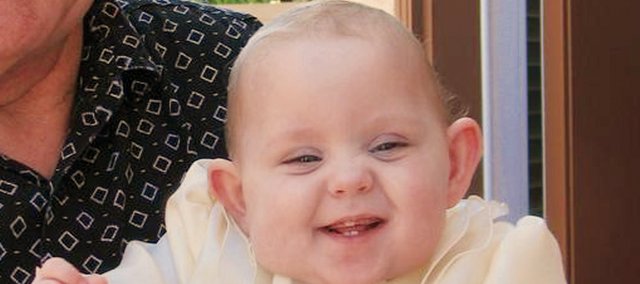 During the past year, Robert and Suzzanne Nickle, of Tonganoxie, have learned to give thanks for the small things in life.
The Nickles were reminded of that lesson March 17 when their great-granddaughter, Kennedy Rozalynne Jones, who was born 16 weeks premature, celebrated her first birthday.
"We're just really, really thankful for everything that God's done for Kennedy," Suzzanne Nickle said.
Whereas Kennedy weighed 1 pound, 8 ounces at birth, the little girl now weighs 14 pounds, 6 ounces.
Kennedy's mother, Tina Jones, who grew up in Tonganoxie and attended Tonganoxie High School, refers to her daughter, born on St. Patrick's Day in 2007 complete with little tufts of red hair, as "the luck of the Irish."
Since arriving home in San Diego after spending her first months at Loma Linda University & Medical Center and a naval hospital in Miramar, Calif., Kennedy has grown four teeth and can giggle, coo and cry at times, despite having severely damaged vocal chords as a result of a tracheotomy.
She can now breathe without the assistance of an oxygen machine, but she still relies on a permanent gastric feeding tube and cannot ingest food through the mouth.
Jones said her daughter is also recovering from laser surgery on both of her eyes but added that doctors have been amazed by Kennedy's progress.
"They say she's doing excellent, especially with her motor skills," Jones said.
For Jones and her husband, Kenny, who is a lance corporal with the U.S. Marine Corps, life with a special needs child has been an adjustment, especially with three other daughters in their household.
Jones' experience as a nurse has helped in times of emergency, though, and, as Suzzanne Nickle said, "She's not freaked out when anything happens, because she's been trained and knows what to expect."
Tina and Kenny also rely on a nurse paid for by the Marines during the weekdays, and the couple takes shifts on the weekend caring for Kennedy.
Jones said regular visits from family and friends have been extremely helpful as well.
"We're so grateful, because we can now sleep at night," Jones said.
Although Kennedy may have difficulty seeing and speaking properly as she grows, Jones said she's confident the young girl can have as close to a normal childhood as possible.
She smiles, she laughs and, Jones said, several friends have commented on her having a "positive life force" about her.
"I don't think - at this point - you'd find a happier baby," Jones said.