THS

grads follow Miracle Mario and 'Hawks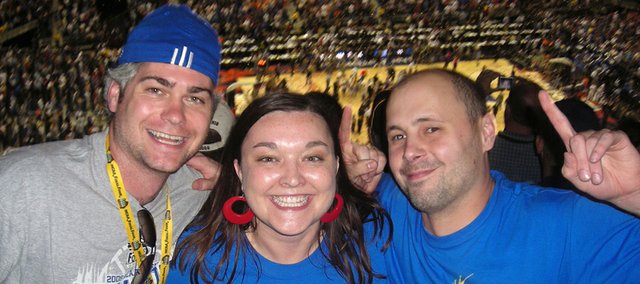 When Kansas won its first national championship in 20 years on Monday night at the Alamodome in San Antonio, a few Jayhawk fans with Tonganoxie roots were on hand for the history.
1996 Tonganoxie high graduates Micah Bray, Clinton Goos and Christi Moore all made the trek to Texas to watch KU play in the Final Four and used the special occasion as a rare reunion, Bray said in a phone interview with The Mirror.
"It was pretty special," he said of the 75-68 overtime victory for KU, adding that the whole experience was too overwhelming to put into words.
According to the former Chieftain, KU fans could barely contain themselves when junior guard Mario Chalmers drained a clutch three to send the contest to overtime just minutes after "darn near every KU fan was dead in the water."
Bray, who now lives in Overland Park and works as an assignment editor for KCTV5 in Kansas City, Mo., was not on the clock this weekend in San Antonio. The lifelong KU fan had some foresight and snuck some prime vacation time in at the right time.
"We rarely get to take time off during the tournament," Bray said of working for a CBS affiliate. "I kind of slipped my vacation past them in early January holding out hope that KU would make it."
When the Jayhawks beat Davidson and earned a match-up with former coach Roy Williams, now at North Carolina, in the Final Four, Bray knew he had to see the anticipated showdown in person.
Bray had traveled to Lawrence in 2000 when Williams announced he was staying at KU. Like many fans he felt jaded by the coach when Williams spurned the Jayhawks for the Tar Heels three years after that.
"I describe Roy Williams as an ex-girlfriend that I'm still kind of in love with," Bray said. "And I secretly kind of hope that unfortunate things happen for him - not anything health-related or anything, but maybe a flat tire or something like that."
That made KU's victory on Saturday night all the more satisfying for Bray.
"I'd be lying if I said I wasn't happy to see Roy Williams lose," Bray said. "I don't see there being a better team that we could've beat."
Bray said the whole Final Four experience was great. He and Goos, now an attorney in Wichita, drove down together and actually purchased their upper level seats at the Alamodome ticket window, avoiding ticket scalpers and ludicrous pricing in the process. What's more, the seats didn't strain his eyes or make his nose bleed.
"The way they've got it situated there's really not too many bad seats up there," Bray said.
The one-time THS track, cross country and basketball athlete had been to NCAA tournament games before, but this was his first trip to a Final Four and he came away impressed. Bray said everyone on the city's famous River Walk was talking hoops and he thought the crimson and blue garb of KU fans outnumbered the fans of all the other schools combined.
While Jayhawk faithful were easy to spot, Bray said he and his friends spent a lot of the time away from the hoops watching for celebrities.
While ESPN on-air personalities and national sports columnists were in abundance, they also spotted former "Saturday Night Live" cast member Dennis Miller and Mario Lopez, better known as A.C. Slater from the cheesy 1990s teen sitcom "Saved by the Bell."
Bray started making his way back to Kansas late Monday night and as of Tuesday afternoon was hoping against hope that he could get another day off on Wednesday to recover from his pilgrimage.