Chieftains softball team finally plays season opener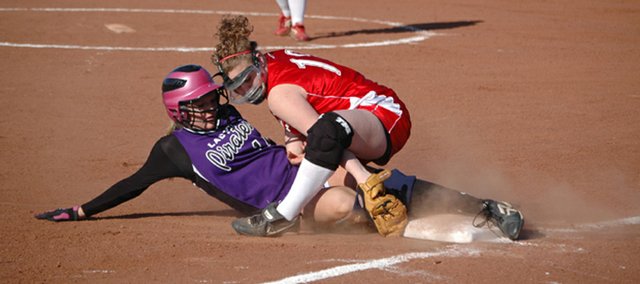 The results may not sit well, but the Chieftains at least have to be thankful for some decent weather.
After a bad string of weather-related postponements, the Tonganoxie High softball season finally began on Monday at the Leavenworth County Fairgrounds.
THS was supposed to play its first game back on April 3 and had two subsequent games rained out since, but the Chieftains actually got to play a doubleheader against visiting Piper and lost both games in their belated opener, 7-5 and 5-1.
The opening contest was a back and forth affair and Tonganoxie led 4-3 after the Chieftains (0-2) scored two runs in the bottom of the fifth to take the lead. 1Senior Ashlee Lohman started things off with a bloop single to center field. Junior Lauren Himpel followed that with an infield single when she sped down the line to beat the throw from shortstop and Lohman advanced to third on the play. Freshman Kaitlyn Wolken drove in both runners with a single to center.
A pair of Piper hits and Tonganoxie errors in the top of the seventh allowed the Pirates to score four runs and take the lead back.
A Chieftain rally, however, fell short in their last at bat. Himpel singled to right with one out and advanced to second on the throw in from the outfield. Senior Lindsey Himpel then knocked an RBI-triple to center field. But she was stranded when Wolken lined out and the Chieftains' cleanup hitter, Melissa Pratt, grounded out to third.
First-game jitters might have got the best of THS in the tight contest and coach Diane Titteriington said she could sense that the freshman Wolken and even the senior Pratt were thinking too much in the last inning. However, she remained confident in their abilities and said Pratt will normally connect in that situation.
"She was ready for a big hit, so she was just too eager and she topped that one," Titterington said.
"The ones who weren't hitting, they will," the coach added, noting that the inclement weather of late likely contributed to some rust. "We haven't had much chance to be outside."
Center fielder Lindsey Himpel, who had four hits on the night, said she was pleased with how the first game went against a tough opponent like Piper and was glad to finally start the season.
"It was really exciting. For me, I was a bit nervous just because I