Cranors: It's not easy being green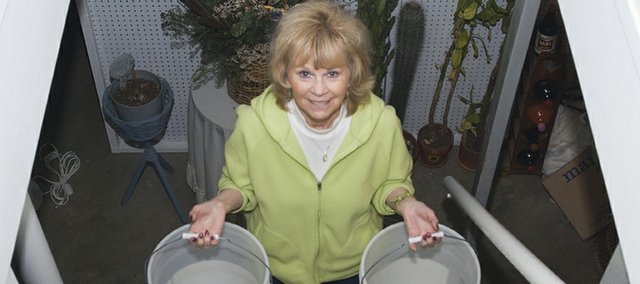 Living a greener lifestyle can come in many forms. For some it means using energy efficient light bulbs and appliances or recycling and conserving gasoline whenever possible. But for Barb and Ron Cranor, conservation also comes one bucket at a time.
For about 15 years the Cranors have used the water that builds up from running their air conditioner during the summer to landscape their yards.
"I just thought the water coming out of the air conditioning could be put to better use," Barb said. "It's a lot of water that can be utilized somewhere else instead of being wasted down the drain."
The Cranors set up several five-gallon buckets in their basement with a hose running from their air conditioner to the buckets. The amount of water that is collected in the buckets depends on the humidity. The more humid the day is, the more water fills the buckets. On those high-humidity days, Barb said she and her husband could change out the buckets about three times a day.
The only problem is the weight of the buckets has become an issue as the long-time Tonganoxie couple gets older.
"I can't let them get full anymore," Barb said about having to carry the buckets up the stairs.
While the water that comes up looks clear, the "gray water" that is collected from the air conditioner or from other sources like dishwater, bath water or laundry water is not potable and should only be used in landscaping.
This conservation trick has not only helped the Cranors lower their monthly water bill, but it also helped six years ago when the city began to put restrictions on excessive water use.
She said they were able to continue watering their plants or wash their cars simply by using the water that was being collected in the basement.