TES

students hold fundraiser to help replenish outdoor garden
How many licks does it take to get to the Tootsie Roll center of a Tootsie Pop?
Students at Tonganoxie Elementary School have 3,123 answers to that question.
About 130 third-graders recently sold more than 3,000 tootsie rolls in the second annual Earth Day Rocks With Tootsie Pops drive.
Students raised just more than $570, which will be used for supplies to be used at the TES outdoor classroom. The area includes stepping stones, a small pond and picnic benches.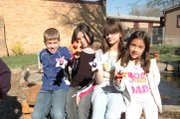 Gale Van Middlesworth, one of six third-grade teachers at TES, said flowers, soil and mulch would be purchased with those funds, as well as stepping stones that would be used to enlarge the patio under picnic tables as part of the classroom.
"The project actually covers two of our curriculum standards," Van Middlesworth said. "It also touches on economics and social studies, as well as Earth Day and science."
The third-graders all had various jobs in making the drive a reality - for instance, some were in charge of promoting the event throughout TES, while others cut out paper decorations for the Tootsie Pops that transformed the suckers into "flowers."
Although Earth Day will be Tuesday, there won't be any fanfare for third-graders that day because of the slow start the area has endured in the way of spring temperatures.
Kiefer said students likely would plant vegetation in May when they hope temperatures will be more conducive to gardening.
In addition to Kiefer, third-grade teachers are Chris Baska, Merrilee Cooper, Karen Stockman, Nancy Patton and Kerry George.