Adcox about to go on Viking quest at Dana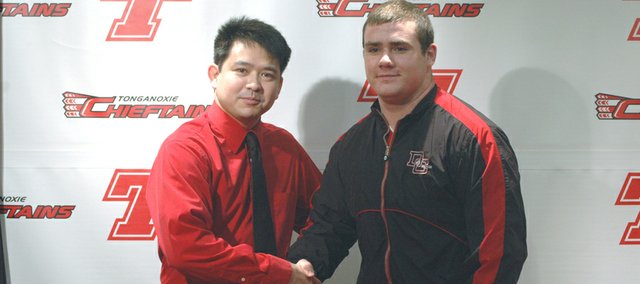 Cameron Adcox began his senior year at Tonganoxie High knowing he wanted to be a collegiate athlete. He just wasn't sure which sport would allow him the best avenue to pursue that dream.
A football lineman and a 285-pound grappler, either the gridiron or wrestling mat figured to be a part of Adcox's college life eventually.
His athletic future became a lot more clear on April 8 when Adcox signed a letter of intent to wrestle for Dana College, an NAIA institute in Blair, Neb.
"I thought it would be a harder decision," Adcox said. "But it was actually pretty easy."
Adcox, who finished second at the wrestling regional and sixth at state in his senior year, said his performance on the mat made it easier to choose wrestling instead of football.
"Once I started the season and did as good as I did, I kind of figured that wrestling was the sport for me," he said. "I've been doing it for 11 years. You can't do it for 11 years and not like it."
The decision was a cinch once he paid a visit to the Dana campus in March during spring break. When he got there Adcox said he knew it was the place for him.
Even though the DC campus is more than 200 miles from Tonganoxie, it felt a little like home because former THS grappler Hunter Samuels, who just completed his junior year as a Viking, played host to Adcox and showed him around town.
Samuels' father, Gene, is an assistant coach on the THS wrestling staff and head coach Jeremy Goebel said that familiarity should help Adcox as a college freshman.
"It should be a great fit for him," Goebel said, noting that Adcox should benefit from already knowing a wrestler there with college experience. "I think that makes his transition a little more easy."
Adcox agreed and gave credit to his Chieftains coaching staff for making him the wrestler he is now.
"(Samuels) and (assistant coach) Scott Underwood have been with me through thick and thin. They've been my coaches ever since I started this thing. I wouldn't be where I am without them," Adcox said. "It's just kind of fitting that they would have a hand in where I go to continue my college career."
Goebel said he was proud of Adcox and happy to have a pair of THS wrestlers competing at the NAIA level while attaining a college degree.
"It's a great stepping stone for the program," Goebel said. "Anytime you can get a kid wanting and getting an opportunity to do it at the next level it speaks huge words for what you're trying to do."
Now that Adcox has chosen a sport and knows the place he'll be competing at next year, he doesn't have anything to worry about. Except maybe the competition that awaits him at the college level.
"That thought's in the back of my head," Adcox admitted. "They're about, what, 22- or 23-year-olds? But I've always been known for taking anybody who comes at me, so I don't think it'll be too much of a problem. I'm looking forward to it."
Adcox and Samuels are the only two former THS wrestlers currently competing at the college level..