Another meet, another win for Chieftains track teams
THS

girls and boys finish first at Tonganoxie Invitational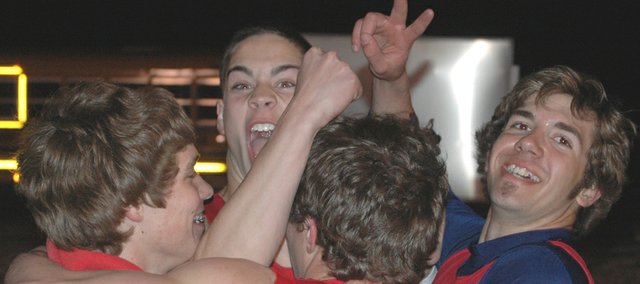 The Tonganoxie High girls and boys track teams continued their dominant 2008 season on Tuesday night at the Tonganoxie Invitational as both teams finished the night with a team title.
Chieftains won 15 events on the evening as the girls scored twice as many points as second-place Piper and the boys finished with 62 more points than second-place Lansing.
Tracie Hileman won four events for THS and set a new school record in the triple jump with a distance of 35 feet, 2.25 inches.
Roni Grizzle won both the discus and shot put events for the THS girls.
Christy Weller won the 800-meter dash and the pole vault for the Chieftains, who have finished first at all three meets this season.
D.J. Lindsay won the 100- and 200-meter dash events for the THS boys and combined with Austin Stone, Jeremy Carlisle and Bret Koch to win the 4x400 relay.
Carlisle also got a first-place finish in the 800-meter run for the THS boys, who won their second outright team title after tying Lansing for first at the Lansing Invitational at their first meet of the season.
Girls Team Standings, Points
1. Tonganoxie 224
2. Piper 112
3. Lansing 73
4. Basehor-Linwood 48
5. Immaculata 34
6. KC Christian 20
7. St. James Academy 14
Boys Team Standings, Points
1. Tonganoxie 174
2. Lansing 112
3. Basehor-Linwood 87
4. Piper 87
5. KC Christian 46
6. St. James Academy 26
7. Immaculata 17
Tonganoxie Girls Individual Results
400-meter 6. Christina Rubio, 1:08.22
100-meter high hurdles 1. Tracie Hileman, :17.37; 4. Abby Eisman, :18.09; 6. Shelby Maxon, :19.80
300-meter hurdles 2. Abby Eisman, :53.14; 3. Dannie Oelschlaeger, :56.12; 6. Shelby Maxon, :57.80
800-meter 1. Christy Weller, 2:27.69; 2. Andie Jeannin, 2:39.54; 4. Katie Chenoweth, 2:46.54
1,600-meter 3. Lauren Hall, 6:16.70
3,200-meter 4. Alex Hauk, 13:52.27
Long jump 1. Tracie Hileman, 16 feet, 4 inches; 6. Paige Boylan, 14-3.25
Triple jump 1. Tracie Hileman, 35-2.25; 2. Paige Boylan, 30-8.5; 6. Nikki Gee, 24-11.5
High jump 1. Tracie Hileman, 5-0
Pole vault 1. Christy Weller, 8-0; 2. Abby Eisman, 7-6; 4. Dannie Oelschlaeger, 6-6
Shot put 1. Roni Grizzle, 40-8; 2. Roxi Grizzle, 35-6; 3. Dominique Grizzle, 33-1
Discus 1. Roni Grizzle, 113-6; 2. Elise Drennan, 90-10; 3. Dominique Grizzle, 82-2; 5. Tiffany Jacobs, 79-0; 6. Katelyn Colgrove, 73-4
Javelin 1. Roxi Grizzle, 140-4; 2. Chrissie Jeannin, 120-5; 3. Roni Grizzle, 114-0
4x100 relay 3. Andie Jeannin, Megan Puhr, Abby Eisman, Christina Rubio, :54.44
4x400 relay 2. Katie Chenoweth, Andie Jeannin, Megan Puhr, Christy Weller, 4:25.98
4x800 relay 1. Megan Puhr, Andie Jeannin, Christy Weller, Katie Chenoweth, 11:40.61
Tonganoxie Boys Individual Results
100-meter 1. D.J. Lindsay, :11.80
200-meter 1. D.J. Lindsay, :24.36
400-meter 3. Bret Koch, :54.52; 4. Austin Stone, :55.12
110-meter high hurdles 4. Chris Jordan, :18.43; 5. Austin Smith, :19.63
300-meter hurdles 3. Jamison Bloomer, :45.82; 4. Chris Jordan, :45.93
800-meter 1. Jeremy Carlisle, 2:08.30
Long jump 4. Jared Knipp, 18-0; 6. Isaiah Sawyer, 17-6.5
Triple jump 3. Dylan Scates, 36-9
High jump 2. Kendrick Whittington, 6-2; 3. Austin Smith, 5-10
Pole vault 2. Jake Willis, 11-0; 3. Blaize Oelschlaeger, 10-6; 4. Ian McClellan, 9-6
Shot put 3. Chance Rawlins, 41-4
Discus 2. Tyler Gurss, 118-4; 3. Stephen Wilson, 112-3; 6. James Edwards, 105-4
Javelin 1. Gabe Belobrajdic, 159-0; 2. Shawn Roberts, 151-6
4x100 relay 2. Bret Koch, Gabe Belobrajdic, Jeremy Carlisle, D.J. Lindsay, :45.66
4x400 relay 1. Austin Stone, D.J. Lindsay, Jeremy Carlisle, Bret Koch, 3:37.38
4x800 relay 3. Pat Holton, David Powell, Tommy Heskett, Jeremy Carlisle, 9:18.53