Late night storm hits county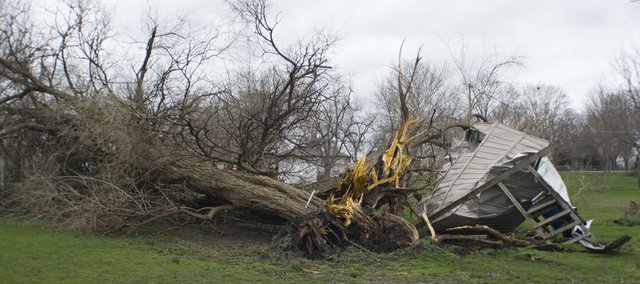 Some Leavenworth County residents are still recovering from a late Thursday night thunderstorm that had damaging high winds.
"From my perspective it could have been a lot worse," said Chuck Magaha, emergency management director for Leavenworth County. "We had a lot of aluminum roofing lifted and blown over. Some trees were uprooted or broken. Some small sheds that weren't tied down blew over."
Just before 8 p.m. Magaha began to hear reports from his weather spotters. Dave Bennett, Tonganoxie Fire Department chief, reported 65 mph winds near Tonganoxie.
Magaha was reading 58 mph near his house. Around 64 mph winds were reported in Basehor and at Fort Leavenworth the highest reported winds were from the Sherman Army Airfield at 70 mph.
It was about that time that Doris Wilson and her husband Donald or "Slim" as he's known around town started to hear the some crashing noises around their house.
"I was around in the front area, then I heard the flagpole go over," Doris said. "And then this here basketball goal went down over the driveway. Then I heard this crash and everything, and then I told my husband, 'Oh my lord there's a lot of things going over.'"
By morning the damage from the previous night's storm was evident.
A metal shed belonging to Fred and Donna Breedlove, the Wilsons' daughter and son-in-law, had blown into their yard wrapping itself around a hedge-apple tree. The tree was the most devastating thing the Wilsons lost.
Doris said the family used the tree for shade in the summer for picnics and to shade the grandchildren as they swung on the swing set underneath the tree. In fact it had practically become a part of the family.
By morning city and county crews were out removing debris and repairing any damage caused by the storm.
"The city crews got out pretty quickly and got the damage taken care of pretty fast. It was still dark and I heard chain saws going, so everybody was right on top of it," said Chris Garcia, Basehor mayor.
Basehor City Superintendent Gene Myracle said 1,069 residents were without power for 87 minutes due to downed limbs.
Magaha warned that county residents should take just as many precautions when there is a severe thunderstorm warning as when there is a tornado warning.
According to the National Weather Service, gusts of winds created from severe thunderstorms can reach up to 100 mph.
Magaha suggested seeking shelter and buying a weather radio to keep informed about severe weather conditions.
Weather radios can be purchased at Tonganoxie City Hall or any area Price Chopper for $29.95.