Patriots' Day festivities on tap for McLouth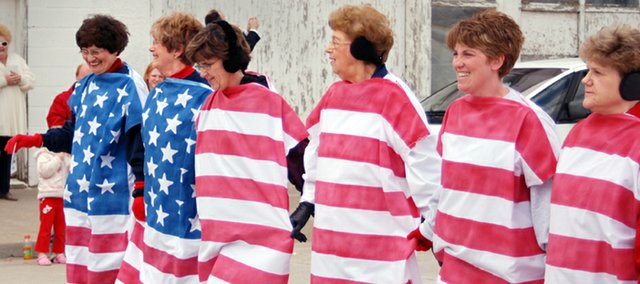 It will be "a big day in a small town" at the 10th Annual McLouth Patriots' Day Parade, scheduled for this Saturday, April 19.
Paul Revere and George Washington re-enactors will ride horseback alongside homemade floats and antique cars, while parade-goers celebrate "the shot heard round the world that set off a revolution," parade committee member Candace Braksick said.
The actual parade doesn't start until 1 p.m., but the day's activities are set to kick off early with a 5-kilometer walk/run to benefit Heidi Karn-Barker, a McLouth High School graduate who received a double lung transplant in January after battling cystic fibrÂ-Â-osis nearly her whole life.
Registration begins Saturday at 7 a.m., with the race starting at 8 a.m. at the McLouth High School sports complex.
A $15 registration fee includes a t-shirt and refreshments, with all proceeds helping defray Karn-Barker's medical and living expenses.
A pancake feed will follow from 8 a.m. to 10 a.m. at the Union Township Fire Station.
Also, from 9 a.m. to 2 p.m., there will be a quilt show at the United Methodist Church, a military memorabilia display at the McLouth Community Center and a static display of unmanned aerial systems by Fort Riley's 2nd Brigade, 1st Armored Division, at McLouth's downtown park.
Braksick said that while many of the day's events are holdovers from previous years, the Fort Riley display and the 5K are new this year.
"Each year we try to have something different," she said, " : And I hear the Fort Riley display is really good."
Downtown, the McLouth Friends of the Library will hold a bake sale, there will be a crafts show and children can play on a moonwalk and giant slide.
Lineup for the main parade - preceded by a children's parade at 11 a.m. - will be at the north end of town by the Leavenworth-Jefferson Electric Cooperative, and the parade route will proceed down Union Street before dispersing at the corner of West Lucy Street by the Home Town Food Center.
This year's grand marshals are Jake Perry and Thomas Cloyd, both veterans home from Iraq.
With Saturday's high temperature predicted to be above 60 degrees, Braksick said it should be a great day for the event.
"We look forward to this every year," she said. "The first year was 33 degrees and drizzling, but most years the weather's been nice."
For more information on Saturday's parade, contact Braksick at (913) 796-6924, and to register for the Heidi Karn-Barker 5K walk/run call Jamie Noll at (785) 691-7165.