Tonganoxie grapplers grab medals at Kansas City, Mo., tourney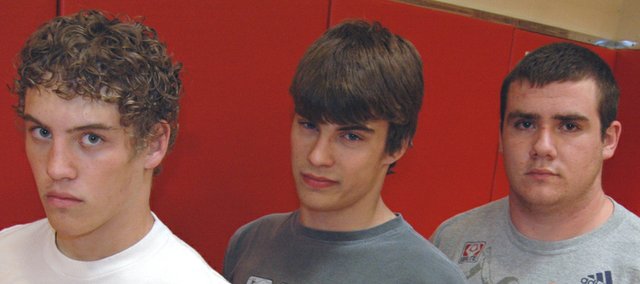 Tonganoxie High wrestling coach Jeremy Goebel likes to keep his wrestlers informed of opportunities to compete and improve. He is constantly handing them fliers on camps, competitions and the like, hoping to give his grapplers even the slightest edge.
Although the THS season ended in February when six Chieftains went to state, the offseason is an ideal time for the wrestlers to improve away from Goebel, whose time coaching them is restricted by rules and regulations in between seasons.
Three THS wrestlers made the most of one such offseason opportunity April 5-6 at the Brute-Adidas Nationals in Kansas City, Mo., at Municipal Auditorium, which pleased Goebel.
"Guys, just go wrestle," the coach told Cameron Adcox, Jeremie Maus and Zach Kaighin. "You're still in shape. Just go wrestle and compete."
That they did. Adcox, who wrestled his final match as a Chieftain at state, and Maus and Kaighin, who have two years of prep eligibility remaining, all medaled at the national tournament. Adcox went 3-1 and finished third in the 288-pound senior class, Maus (163, sophomore) was 4-2 at the tourney and finished seventh, as did Kaighin (174, sophomore), who won three of his five bouts.
Adcox, whose only loss came in the first round to the eventual champion, said wrestling at a large tournament and facing different styles of wrestlers proved difficult.
"The competition was stiff. Any time you go to a national tournament it's going to be tough," he said, noting that wrestlers from more than 30 states competed at the event.
Adcox was closer to winning the tournament than his third-place finish implies. His lone loss came to the champion in his weight class - Zach Campbell of Reitz High, Ind. - and that bout went to overtime.
"I gave the guy that beat me a run for his money and took it to everybody else," Adcox said. "Many guys said that our match was better than the finals. Any time you get that in the first round you know it's good competition throughout the whole tournament."
The opposition was just as difficult and diverse for the other Tonganoxie wrestlers. Maus grappled with opponents from Illinois, Wyoming, Missouri and Kansas, while Kaighin faced wrestlers from Iowa, South Dakota, Kansas, Missouri and Louisiana.
"You didn't have an easy match the whole way through," Adcox said.
Added Maus, "It was a tough tournament. It was probably one of the toughest ones I've ever wrestled in. I did really good. We all did excellent for being in a national tournament."
Kaighin said he knew it would be tough to win, because many of the wrestlers had traveled several hundred miles to compete.
"One of the kids in my bracket was from New York," Kaighin said. "You don't come all the way from New York to lose."
The three Chieftains, all good friends, spent the weekend hanging out together at Municipal when they weren't involved in matches. Unfortunately, Kaighin and Maus often wrestled at or near the same time because their weight classes were near each other, but they were able to support Adcox, Kaighin indicated.
"We didn't really get to watch each other's matches, but we both watched Cameron's matches. It was awesome," Kaighin said. "It was pretty cool. Third in the entire nation, that's pretty cool."
Goebel was happy the wrestlers made the most of the opportunity.
"That is going to pay a big dividend come next year," he said.