Commissioners approve insurance bid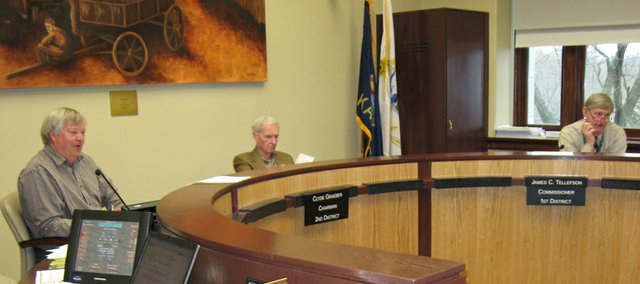 County commissioners decided to go local in approving a bid for health insurance brokerage services from Leavenworth-based Reilly & Sons Insurance on Thursday.
After conducting final interviews with two firms Wednesday with Commissioner J.C. Tellefson and human resources director Diane Collins, county administrator Heather Morgan said, "(Reilly & Sons) were very appealing, because they handle a lot of local businesses and are in touch with the area."
Reilly & Sons also provide insurance services to the Leavenworth School District, the City of Leavenworth and the City of Lansing.
A one-year contract with the company is to go into effect in October, Morgan said, with Reilly and Sons' fee equal to 3 percent of the overall insurance premium for county employees.
In unanimously approving the bid from Reilly and Sons, commissioners decided not to contract with current broker, Leawood-based CBIZ, next year.
Morgan said a health insurance carrier was not indicated in Reilly & Sons' proposal, but she said that the company has worked with more than one provider in the past.
In other business Thursday, the board:
¢ Discussed where to delineate pay increases and benefits for county employees in the 2009 budget.
According to county clerk Linda Scheer, overtime pay and workers' compensation payments have historically been denoted in departmental budgets, but salary increases and benefits have not.
"You're not getting a true cost," Morgan said of the current method. " : Either put it all in, or pull it all out."
¢ Approved, 3-0, the purchase of a server for the health department that will make employees' BlackBerry ® mobile devices there compatible with the county system.
The expenditure is to be paid for out of the department's current grant funds, Morgan said.
¢ Voted, 2-0 (Commissioner J.C. Tellefson was not present), to let bids for a new roof at the county shop.
The roof of the noxious weeds building has leaked water since last year.
¢ Discussed going out for engineering bids for a new sewer line in Sewer District No. 3, which services the Glenwood Estates subdivision near Basehor, with planning and zoning and public works staff.
"Our intention is to redefine the boundary of the sewer district," public works director Mike Spickelmier said of the plans, which are to eventually include the acceptance of wastewater from the Basehor-Linwood School District's new elementary school.
¢ Heard a quarterly report from solid waste director Jason Auvil, who noted there were 1,145 tons of material taken from the Leavenworth County transfer station in the first quarter of 2008 as well as 265 tons of recyclable goods that were sold for approximately $27,000 in revenue.
Although Auvil said the tonnage for standard waste was "a little down" over the past three months, he explained that recently increased tipping fees have kept income steady in comparison to years past.
¢ Met in executive session for five minutes to discuss potential litigation.