Bonded projects identified, authorized by commissioners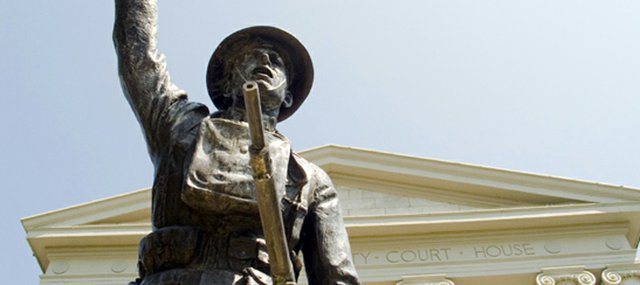 It's official now.
With the adoption of Resolution No. 2008-05 on Monday, county commissioners identified exactly what projects will be financed under a multimillion-dollar general obligation bond that will be reimbursed by the voter-approved 1-cent sales tax running through 2016.
The bond issue, to be prepared and marketed by Oppenheimer & Co. Inc., will fund improvements to County Road 1 in southern Leavenworth County at up to $11.8 million and County Road 8 (Fairmount Road) at up to $6.8 million, will pay to replace two bridges over Stranger Creek on County Road 5 (Tonganoxie Road) at up to $660,000 and will go toward assisting the City of Leavenworth with improving the intersection of 18th Street and Metropolitan Avenue at up to $600,000.
Pursuant to Kansas state statute, the board was required to pass a resolution as such, publish that resolution and allow a 60-day protest period before any bond is issued for road repairs or construction.
County counselor David Van Parys, who presented the proposed resolution Monday, noted that all figures included were conservative, "not-to-exceed" amounts, and, if anything, they needed to be high to ensure the county would have adequate budget authority to proceed with the identified projects.
"This is the most pessimistic number we can come up with for the project," Commissioner J.C. Tellefson said of the more than $19 million total figure.
He added that, although there may be a public perception that commissioners' have not been completely transparent in regard to the overall costs associated with said improvements, "The commission has gone to great lengths to be as open and forthcoming as we could be : I think that it's appropriate for us to go forward and do some of these things we told (the public) we were going to do."
In regard to the controversial County Road 1 project, which will give Leavenworth County its first direct access to the federal interstate system, public works director Mike Spickelmier said the $11.8 million county cost estimate presented Monday did account for an approximate $490,000 federal earmark, $2 million from the Kansas Turnpike Authority and an initial contribution from the Kansas Department of Transportation.
Commission chairman Clyde Graeber noted, however, that KDOT officials have yet to determine exactly how much they will share in the cost of realigning a road that will tie County Road 1 and U.S. Highway 24-40 together.
Graeber also stated that if U.S. Highway 24-40 corridor management funds are procured from KDOT, the cost of the project to the county could be further reduced.
Van Parys said that all funding sources should be finalized by the time commissioners let bids for construction in late May or early June.
Graeber said a poor general economic climate might actually bring construction bids in lower than expected, as firms might be willing to take a hit to secure what work they can.
"This is a good time to be going out on the market for (construction) bids," Van Parys echoed.
As the project stands currently, county staff is in the process of acquiring right of way along County Road 1, and the Kansas Turnpike Authority has already begun work on an interchange with Interstate 70.
As far as where financing for a countywide communications upgrade - the other major project for which commissioners have discussed using sales tax money - will come from, Van Parys said he envisions that that project will be financed through a state bond administered by KDOT, with payments coming from the county in the form of a lease-purchase agreement.
When approved in 2004, it was estimated the county's portion of the 1-cent sales tax would be about $27.2 million over 10 years.
The most recent, all-inclusive estimate for the communications upgrade by Motorola representatives was $12.4 million, but it has yet to be determined how much various agencies around the county will contribute to the endeavor in purchasing new, digital radio equipment.
In other business Monday, the board heard quarterly reports from:
¢Health department administrator Donna Martin, who reviewed all training and meetings her staff has attended in the first three months of 2008 and discussed how to make the department's Women, Infants and Children (WIC) program more accessible to the people it serves.
¢Information systems director Larry Malbrough, where a possible request for proposals for copy machines and a new Internet usage policy were discussed.
¢Special buildings director Tim Goetz, who reviewed budgetary figures and discussed how best to install a new roof at the county shop and reassign parking spaces outside the county courthouse.