MHS

grad finds niche with jewelry design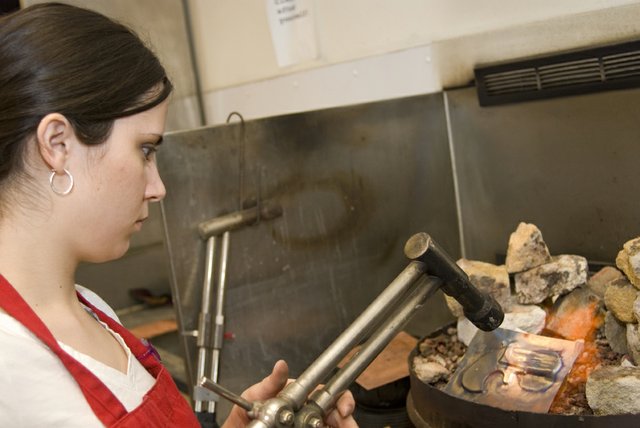 The clanging sound of hammers against metal can be heard as one approaches the back of the Art and Design building at Kansas University. Stuck in between the third and fourth floors, Lisa Smelser and her fellow metal smithing and jewelry design classmates work diligently to finish their semester projects.
Smelser's latest project was a copper lid to a box. Embossed on the thin copper plate was an image of a derringer.
"I like to entertain myself," Smelser said about her designs. "I don't design for anybody but me. I'm glad if other people appreciate it."
This is Smelser's final year at KU, but for the first time she received national acknowledgement that her quirky style could be appreciated. One of her pieces was chosen to be exhibited at the Society of American Goldsmith Conference in Savannah, Ga.
After previously having pieces rejected, Smelser had plenty riding on this last submission.
When she opened up the letter from the society she knew it was destiny because the letter had been dated on her birthday, but she still couldn't believe that she had been chosen.
"It's not the biggest honor in the world, but it was huge for me," she said.
Even when she was in Georgia along with the other graduate students, who's work was chosen, and Jon Habener, her instructor, it was difficult for her not to get emotional as she looked at her piece behind the display glass.
She began to cry.
"I was trying to keep my cool, but it did not happen," Smelser said. "Then Jon said, 'Remember this. Remember how it feels and go with it.'"
A young smith
When Smelser was choosing which college to attend, her choices were between studying landscape architecture at Kansas State University or studying something at KU. Her decision was made when she was offered more money in scholarships to attend school in Lawrence.
At first, Smelser wasn't sure what she was going to do with the next four years, but the problem was soon solved when she saw a course catalog.
"There was a list of majors and when I saw jewelry and metal smithing. I thought I would do that," she said. "I really feel like this was the place I was supposed to be."
That feeling was later confirmed when she found a note she had written as a child about what her dream careers would be. A younger Smelser either wanted to design things for celebrities or she wanted to be a professional bowler.
Currently Smelser is enrolled in a bowling class at the university. She said her highest all-time bowling scores were games of 147 and 131. She achieved those scores recently. Every other time Smelser said she struggles to even break 100.
"It's not going as well as the jewelry so I better stick with the jewelry," she said.
Serious Whimsy
Smelser pulled out boxes that contained most of the work she has done during the last four years. Joking, yet serious, she said that all of her life's work could fit in a shoebox and a corndog box.
Most of the pieces are animal themed and almost all of them have some element of surprise.
A sterling silver bracelet is wrapped with a rubber band that is meant to resemble a tire from a car. The clasp is a silver armadillo.
The surprise?
The unclasped armadillo opens up and the backside of the animal now looks like road kill.
Smelser said she learned this technique from Lin Stanionis who taught her to evaluate the back of the piece and not just the front.
Even her semester project has an element of surprise. The three-piece tiara is based on cowboy comic books from the 1950s.
When arranged, the tiara forms a three-dimensional gun fight complete with gunslingers, cacti, hills and a sunset.
The surprise?
The sides of the tiara have mechanisms that cause one gunslinger to draw his gun and the other gunslinger to fall down dead.
This unique style had led Habener to describer her work as "serious whimsy."
"Humor is a very tough emotion to extract from someone," Habener said. "If you can
do it, you form something. You automatically develop a kinship with the object you are looking at. And then, when you discover more about it could be a serious topic it intrigues people."
For now, the walk down Campanile Hill for graduation is in a few weeks and Smelser's future is still up in the air. While many of her classmates are going to New York and other major cities to continue creating jewelry, Smelser believes she might stick around and probably start her own studio.
"I like Kansas," Smelser said. "It's been good to me."