Checkmate! Grizzle golden again at Kansas Relays
Freshman Carlisle predicts record-setting time, then sets it in boys 800-meter run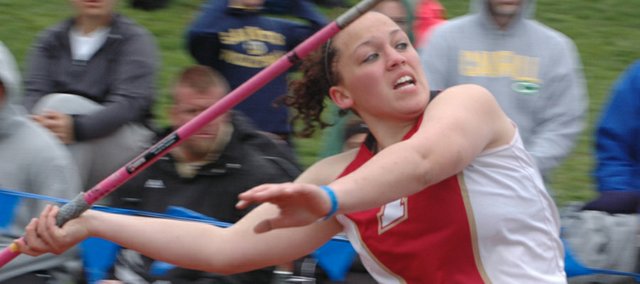 Photo Gallery
Six Chieftains compete at Kansas Relays
Tonganoxie High sent six of its track and field athletes - Gabe Belobrajdic, Roni Grizzle, Roxi Grizzle, Chrissie Jeannin, Christy Weller and Jeremy Carlisle - to the Kansas Relays in Lawrence. All of them competed on Friday at the mega-event on the Kansas University campus.
Lawrence — Roxi Grizzle has a couple of checklists. And the first one makes the second possible.
Every time the Tonganoxie High senior prepares to throw the javelin, she remembers what her coach, Dave St. Cyr, always tells her about technique and uses that as motivation to launch the javelin farther and farther.
As she runs, preparing to throw, her mind also runs down the "Coach St. Cyr Checklist of Correct Throwing": 1. Be tall. 2. Be smooth 3. Drive through the point.
Grizzle did all of the above on Friday at the Kansas Relays, and in the process won the girls javelin with a new personal and THS best throw of 163 feet, 11 inches.
"Usually when I get up there I go through all the things that he tells me," Grizzle said after winning the girls javelin at the Kansas Relays for the second time in her prep career.
The victory allowed her to check off another goal on her "Things to Accomplish as a Senior" list. Grizzle, who will throw for Nebraska next year, is trying to go undefeated in the javelin, win an individual league title - which would be her first (she has won a regional title) - and ultimately win a state championship. In the process she wants to help the THS girls win a league title as well.
It turns out her first throw of the day would have allowed her to apply a check to the list because it was long enough to win the event, but she bested it on her last attempt.
"I figured that I had it, but you've got to go after it," she said.
A gang of well-wishers congratulated Grizzle on her title, including freshman boys runner Jeremy Carlisle, who told her she should come watch him break another school record that night in the 800-meter run.
After a long, cool, wet day of competing in the shot put (she finished 19th in that event, but said it served as a good warmup), winning the girls javelin and watching former Chieftain and current Kansas State freshman Ali Pistora finish fifth in the women's javelin throw, Grizzle was not in the Memorial Stadium stands Friday evening when Carlisle finally got out on the track.
But he stuck to his word.
When Carlisle exploded out of the pack on the last lap in the boys 800 and crossed the finish line first in his heat, he broke a 25-year-old THS record by five hundredths of a second. The prognosticating freshman's time of 1:58.75 just bested Brett Evans' time of 1:58.8, set in 1983.
The record time was only good enough for sixth in the loaded Kansas Relays event (Andrew Perkins of Watertown, Wis., won with 1:53.76), but Carlisle still was elated.
"I was thinking maybe seventh or eighth in my heat as a freshman," he said of expectations before the race. "To win it is huge."
Another Grizzle, junior Roni, was on hand for Carlisle's feat, and she did well for herself that morning in the girls shot put, finishing fifth with a throw of 40 feet, 9.5 inches.
Although she wanted to finish higher in the competition, Roni said competing against girls from Classes 5A and 6A at the Kansas Relays would benefit her when she returns to her regular 4A schedule.
"When I throw against them I feel more competitive like I'm getting better," she said, adding that her favorite part of the huge event was watching the college and professional athletes compete, because she takes notes on their technique and that also helps her improve.
THS junior Chrissie Jeannin was among the spectators when Roni and Roxi threw in the shot put, but she was front and center with Roxi in the girls javelin.
Jeannin finished 10th with a throw of 118 feet, 6 inches, at her first Kansas Relays. After shaking some early nerves, Jeannin improved her distance on each of her three throws and said she was glad to be a part of the event.
"It's always good to see the good throwers like Roxi and the other girls go against each other," she said.
Senior javelin thrower Gabe Belobrajdic was the first Chieftain to compete at the relays. In just his second year throwing the javelin, he finished 14th in the boys javelin with a throw of 159 feet, 8 inches, but wasn't disappointed.
"I wasn't really nervous. I expected 190s, 180s, I mean we're at the KU relays," he said. "I thought it was fun, I didn't do terribly bad. I missed the finals by like three meters."
THS senior Christy Weller was the only other Chieftain to compete at the relays. She finished 21st in the girls 800-meter run with a time of 2:26.75, just more than 11 seconds behind the first-place time.