Chieftains with blazing speed blazing trails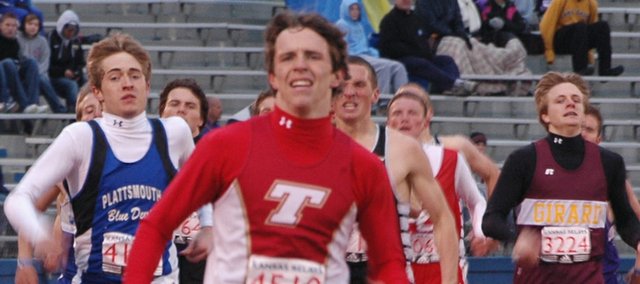 Don't blink.
If you do, you will most likely miss the blur that is the Tonganoxie High boys sprint team.
All season long Chieftains coaches have quietly been saying that this year's speed racers might be the fastest group they have seen in years.
Those murmurs were confirmed on Friday at the Kansas Relays when freshman Jeremy Carlisle broke a quarter-century old THS mark in the 800-meter run with a time of 1:58.75.
But that was just the latest piece of evidence in a constantly growing case for the 2008 Chieftains as the fastest group the team has fielded in a few decades. And boys track coach Phil Williams stresses that it is as a group that the team stacks up with the fastest of the fast.
Carlisle is just one of the Chieftain runners to impress this season. Sophomore D.J. Lindsay has been finishing at or near the top in the 100- and 200-meter dash at every meet. Sophomore Bret Koch and junior Austin Stone have been doing the same in the 400. And those four, as well as senior Wesley Armstrong and junior Chris Jordan, have combined to form a 4x400 relay team that was undefeated before finishing second at the Cardinal Relays in Eudora on Monday.
With so many underclassman runners, it's easy to understand why Williams wasn't expecting a whole lot from his sprinters heading into this season. He thought the boys would be solid in throws and jumps, but didn't expect to be scoring so many points with his sprinters, namely because THS hadn't done so in so long.
"I hate to say that I didn't expect a lot from them," he said. "But they've exceeded (my expectations) a little bit."
The coach isn't alone in that sentiment, Carlisle said.
"We weren't really expecting to be this good, but we're just trying to improve right now," he said.
The frosh said he and his fellow underclassmen don't think about their lack of experience when they run.
"We might as well be four seniors running in our last year, give it everything we've got on every race," he said of their approach.
Lindsay ran as a freshman last year and has noticed a difference in this year's team.
"In practice we always push each other," he said. "I'm usually the one that lags off a little bit, but Carlisle never lets me; he's always making sure I'm up there with him."
While senior Gabe Belobrajdic specializes in the javelin, he also runs on the 4x100 relay team, which has also done well. He said the success of the boys team, which tied for first at its first meet and won the next two outright, this year can be credited to the sprinters, who have allowed THS to rack up points from events where they had not done so in the past.
"Our sprinters are amazing this year," Belobrajdic said. "That D.J. Lindsay, he's really fast. He's definitely impressed all of us this year."
As for Lindsay, he's been just as impressed with the other half of the Chieftains track team.
"The girls, I'm really impressed with them. They've been doing great this year," he said of the squad led by Tracie Hileman, Roxi Grizzle, Christy Weller and many others.
"Everyone's winning in just about everything we're doing," Lindsay said. "It's pretty cool, but I still think if we all pick it up in practice more we could really improve a lot more."
With Carlisle's drive and focus, the boys shouldn't have to worry about slacking at practice.
"Every day we come in we're just determined to get better, and the last couple of years - from what I've heard - they wanted it, but they didn't have the drive to get it," Carlisle said.
No doubt, things are different this season, Lindsay agreed.
"It seems like we want it more this year," he said. "I really want to go to state, I don't think that's too high of a bar to set."
It might not be. Not this year anyway.