Chieftains dominate Paola, win 11-1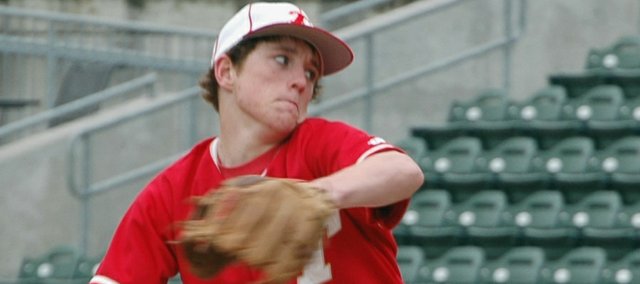 Kansas City, Kan. — The Tonganoxie High baseball team had only a few hours to shrug off its first-round loss at the Butch Foster Memorial Baseball Classic, but the Chieftains showed no signs of sluggishness after a Thursday loss to Spring Hills.
Instead, they were solid offensively and defensively in their consolation semifinal game Friday at CommunityAmerica Ballpark and hammered Paola, 11-1, in five innings.
The Chieftains (7-6) wasted little time taking charge of the game. Jace Waters hit a two-out single in the bottom of the first. Logan Forbis followed with a base hit. Then came another single, this time by Keith Wentz-Hall, and Waters scored. Todd Brown then reached base on an error and Forbis trotted home for a 2-0 lead.
Blaize Oelschlaeger was hit by a pitch to start the second inning, and he came around to score after Rob Schlicht and Tyler Lupton hit back-to-back singles.
THS blew the game wide open with five runs in the third inning as Wentz-Hall, Brown, Ethan Lorance, Schlicht and Lupton all came around to score. Tonganoxie had seven hits in the inning.
Paola finally got on the board with a run in the top of the fifth, but it was too little too late.
Tonganoxie piled on three more runs in the bottom of the fifth to complete the run-rule victory. Schlicht and Lupton led off the inning with walks, then Waters hit an RBI-double. Forbis followed that up with an RBI-single up the middle and Wentz-Hall ended the contest by pounding a double to the right-center gap that plated Waters.
Waters started on the hill and threw all five innings for the Chieftains to pick up the victory. He struck out three and walked just one while holding Paola to four hits. His most impressive inning came in the top of the second when he retired the Panthers with just three pitches, getting two pop-ups and a ground out.
Waters said he didn't do anything special to retire the side so quickly.
"I don't know what it was," he said. "They were kind of dumb to swing at three straight pitches, but they helped us out."
THS coach Phil Loomis said he is trying to get his players to realize they are capable of playing at a high level, as they did against the Panthers, on a daily basis.
"They're trying to figure out how to stay on a plateau and not crash," he said. "They know they can play at that level, they just don't consistently do it."
He said inconsistency leads to frustration and pointed to the fact that both starting pitchers they have faced at the classic so far were fairly similar.
"Why did we get 15 hits today and three yesterday?"
But the Chieftains were able to make quick work of PHS thanks in large part to Waters, and Loomis said the junior does a nice job of hitting his spots.
"We hate to take him off of shortstop because he's so good there, but he throws the ball real well and is consistently around the plate," Loomis said. "He's probably our most consistent strike-thrower, so we know when we put him out there that we're going to get a pretty quick-played game and a pretty efficient game."
Tonganoxie advanced to the fifth-place game at 1:30 p.m. Saturday. Paola will play for seventh place at 11 a.m.