Chieftains shut out Kaws to take fifth at tourney
Forbis strikes out seven in complete game shutout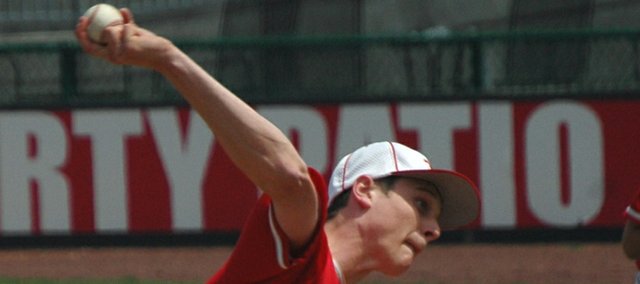 Kansas City, Kan. — Pitching and defense were the words of the day at CommunityAmerica Ballpark on Saturday afternoon as the Tonganoxie High baseball team got out of a jam in the bottom of the seventh to defeat Perry-Lecompton, 2-0, and take fifth place in the Butch Foster Memorial Baseball Classic.
Logan Forbis started on the bump for the Chieftains (8-6) and threw a complete game, striking out seven Kaw batters while allowing a single walk and six hits.
THS scored both of its runs on sacrifice flies. The first came in the top of the second when Jared Lamb plated Keith Wentz-Hal with a fly to left field.
In the bottom of the inning, it appeared Perry-Lecompton would answer with an RBI sac fly of its own. Dylan Turpin's fly down the line was snagged by THS left fielder Brandon Yoder, who gunned a perfect throw home to catcher Tyler Lupton, allowing him to tag out PLHS pinch runner Nathan Wilbur before he reached home.
The Chieftains didn't get their other run until the top of the sixth. Jace Waters led off the inning by blasting a double that caromed of the high left-field wall at the minor league ballpark. After Forbis grounded out, Waters was nearly caught in a pickle when Wentz-Hall grounded to shortstop, but backtracked initially to second base and then hustled back to third safely as Wentz-Hall advanced to second.
Todd Brown then hit a deep fly out that gave Waters plenty of time to score the Chieftains' second run.
In the Kaws' final at bat, they nearly rallied by loading the bases with one out. Following a trip to the mound by THS coach Phil Loomis to talk with Forbis, the pitcher retired the next two PLHS batters to get out of the inning and maintain his shutout.
The Chieftains travel to Lansing on Monday for a doubleheader, which will cap a five game stretch in five days for THS.