Friends and family gather for soldiers homecoming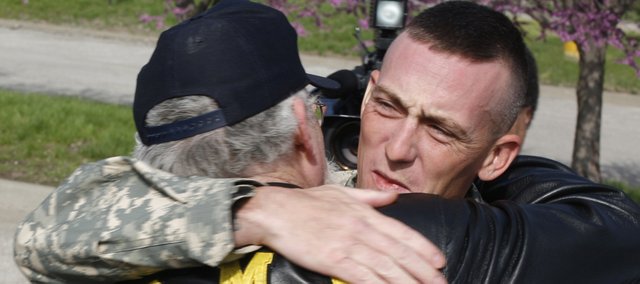 For months, the biggest visual representation that Joe Peel's children had of their father was a three-foot cardboard cutout they called "flat dad."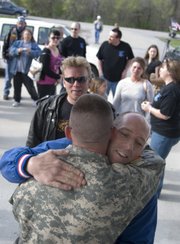 And in the same amount of time, whenever the Army sergeant wanted a hug from his kids while stationed in Iraq, he could only put on the white T-shirt they sent him with their handprints and a message on the back that read "I love you daddy."
But on Friday, Peel's family was finally able to put flat dad away and Peel was able to hold his children for real.
"I prayed every night to be back," he said in a quivering voice as he tried to keep from crying. "That's all I asked for is to be back with my family."
About 5 p.m. Friday, members of the Patriot Guard Riders, a motorcycle group that honors current and fallen soldiers, escorted Peel, his wife, Leanne, their son, J.D., and two daughters, Haleigh and Torrie Evans, from Lawrence to the Tonganoxie Veterans of Foreign Wars building, where there would be a special welcome home party. The party was also for Spc. Phillip Jeffery and Staff Sgt. Todd Meckley, who traveled with Peel.
Peel knew about the party, but he said he wasn't expecting to see the more than 22 motorcycles waiting for him or to get the police escort when they got into town.
Leanne was at a loss for words to describe how she was feeling now that her husband was back home.
The kids were also excited. When asked which one they liked better, flat dad or real dad, the kids clung to Peel while pointing at him.
"It's the best thing that's happened to me in a long time," said Eddy Peel, Joe Peel's father. "To get him back with all of his parts is really good."
Although he is finally at home, some of his thoughts are still with the thousands of men and women in Iraq who aren't able to be with their families.
"It bothers me every day. I pray for them every day," Peel said. "You may argue some of your points and you may have some difference here and there, but it's still our country and we have to defend it. I will back every soldier that is there now, that goes, that's been there, until the day I die."
In August, Peel was able to come home for 18 days after a six-month stay in Iraq before having to leave for another nine-month tour.