Boyda to be in Tonganoxie this weekend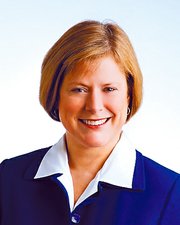 Tonganoxie — Second District Kansas Congresswoman Nancy Boyda will be in Tonganoxie on Saturday for the Leavenworth County Congress on Your Corner event at Bichelmeyer's Steakhouse.
Boyda will meet one-on-one with constituents from 4 p.m. to 6 p.m. to discuss their legislative concerns, answer questions, and offer assistance with federal agencies. All area residents are encouraged to attend.
The Leavenworth County stop is part of Boyda's 2008 Congress on Your Corner Listening Tour, in which she will bring Congress on Your Corner to all 26 counties of the Kansas 2nd Congressional District.
"Leavenworth County, Kansas, may be a long way from Washington, D.C., but it needs and deserves a voice in our nation's capital. I'm looking forward to visiting Bichelmeyer's Steakhouse in Tonganoxie on Saturday and hearing what folks have to say," Boyda said.