County construction, sewer projects on tap
Leavenworth County Commissioners are set to go out for construction bids for renovations to the county Justice Center.
The board approved final architectural designs for the project, which were submitted Monday by Dan Rowe, with Treanor Architects of Topeka.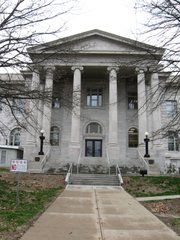 The project will complete what was left undone when the Justice Center was originally built. It will add a kitchen for the county jail as well as a work release/trustee area for inmate workers.
Rowe said bids from general contractors should be received by the second week in June, and he estimated a price tag for the undertaking at almost $1.5 million.
Also on Monday, the board, acting as Sewer District No. 3 of Leavenworth County, voiced approval for an interlocal agreement with the city of Basehor that would connect a sewer line to the city's wastewater treatment facility at a combined cost of $621,000.
Commissioners also accepted a bid from Kearney, Mo.-based Trickle Construction for the building of a new emergency medical services near the intersection of 16th Street and Metropolitan Avenue in Leavenworth. The $846,500 construction project is to be financed through a state statutory bond and a performance bond issued by Safeco Insurance.
For more on Monday's county commission meeting, check the Web site later this week.