Cancer doesn't hold back politician from doing job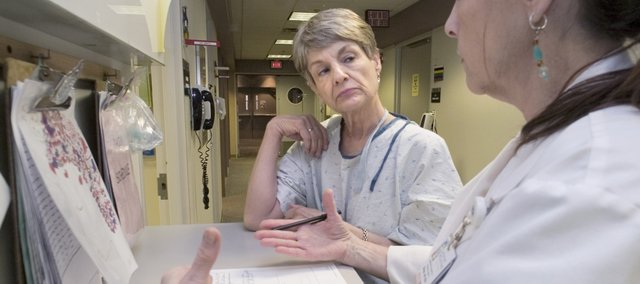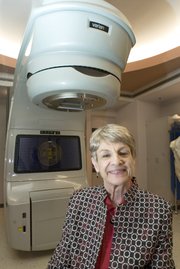 It's 7:30 a.m. and Rep. Marti Crow, D-Leavenworth, makes her way into the State Capitol in Topeka. By now, the Kansas Legislature has been in session for four months.
She takes her place as the agenda chairperson for the Democratic Caucus in the House of Representatives and then later heads over to the education committee meeting.
The busy morning is followed by a busy afternoon and evening as the day's House session kicks off at 11 a.m. can stretch on until 6:30 p.m. Sometimes the House is in session as late as 11 p.m.
Crow's schedule is like most of her fellow state representatives while the Kansas Legislature is in session from January until April, except for one thing.
While others dine out in many of Topeka's restaurants during their lunch break, Crow drives herself to St. Luke's Hospital is Kansas City, Mo., for her daily radiation treatment.
For the past 10 months, Crow, who was first elected in 1996 and is currently serving her 12th year, has been battling an aggressive form of breast cancer while trying to maintain the busy life required of a Kansas lawmaker.
"I have a lot more energy than most people." Crow said. "My husband says I use more energy sitting still than most people do during a full run."
It's been that energy, along with the support and love of her friends and family, that has helped Crow flourish since her diagnosis in July 2007.
The diagnosis
Crow's mother had breast cancer, so Crow said she was always diligent about getting mammograms for herself. In one such mammogram, a lump was found in her right breast, which is where her journey begins.
Once the lump was found and diagnosed as breast cancer, the Crows wasted no time jumping into attack mode. Her husband, Mike Crow, is on the board of Cushing Memorial Hospital in Leavenworth, which is part of the St. Luke's Heath System. He began asking around for the best breast cancer oncologist.
Only one day after her diagnosis, Crow had an appointment with Dr. Ali Shwaiki, where together a plan was laid out for the next year of treatment.
"When we first got the diagnosis, we had no idea how the treatment was going to go," Crow said. "But when we talked to the oncologist, he did a bunch of testing to see if there was any spread anywhere in my body, then we laid out a plan that we've pretty much followed."
The plan of attack was to have chemotherapy for six months from August until December. In February, she had a mastectomy where her right breast was removed.
"My cancer was gone at the end of the chemotherapy," Crow said. "It was completely gone. When they did surgery, no (cancerous) cells were found, not a single one."
Following the surgery came radiation treatment, Monday through Friday for six weeks. With great relief, Crow had her last treatment on April 11. She will now being taking the drug Herceptin every three weeks for a year as a preventative measure.
"We feel very good that the cancer, the tumor and any spread was taken care of by the chemotherapy," she said. "Radiation and surgery was kind of a insurance policy against reoccurrence."
Juggling act
Crow's diagnosis and plan of attack was only the beginning of what was in store for her as she thought over her plans for the legislative session.
"We looked at the plan and looked at the calendar of when I knew I'd have to be in the Legislature, and we figured I could probably serve without missing much," she said.
From the beginning, Crow said she knew she wanted to finish out her term. Despite just plain loving the job, she said she knew it would be difficult for someone else to come in during the middle of the year. She set her mind to make it work, and that's exactly what she did.
When it came time for her surgery, Crow missed two weeks of the session but was back ready to work as soon as she could. She said the experience was "relatively painless" and she only felt a bit tired during her first week back.
During the overlap time of her radiation treatment and the legislative session, Crow said she had to make adjustments. With St. Luke's, Crow was able to set her appointments at 1 p.m., during the representatives' lunch breaks.
While driving back and forth between Topeka and Kansas City may seem tiresome to most, Crow said she actually looked forward to that time. She listened to books on tape and enjoyed the alone time that's hard to come by during a session.
She also said her busy schedule might have actually helped in the healing process of radiation. Crow's doctor told her those people who stay busy while undergoing radiation are usually the ones who experience the least fatigue.
"I feel like coming back to the session has not been a mistake at all," she said.
Rep. Kenny Wilk, R-Lansing, couldn't agree more. He said what Crow has accomplished while battling cancer was remarkable. Wilk cited Crow's upbeat and positive attitude throughout this year's session.
"I think I can speak for the whole Legislature when I say we have nothing but admiration for what she's been able to handle," Wilk said. "When you have a tough time, that's how you battle it. She's set an example for all."
Gov. Kathleen Sebelius also witnessed Crow's battle up close during the session. Sebelius, who has been a close friend of the Crow family for decades, first met Mike Crow when he was a state senator. It was during those years that Sebelius said she saw just how much the Crows "were amazing public servants, wonderful parents and community leaders."
"This recent cancer battle of Marti's has brought those great characteristics forward once again," Sebelius said. "Marti Crow has the support and love of her amazing family and lots of friends but never stops fighting for others, even as she battles for herself. She represents the best aspects of a true public servant - putting her constituents ahead of herself. I am proud to be her friend."
Supportive following
Crow said those friends and her family made her stronger during this difficult year.
She and her husband, Mike, have three children - daughter Jennifer Crow, who lives in Topeka and is the executive director of the statewide organization Kansas Coalition for School Readiness, which works to promote quality early childhood education programs; daughter Emily Crow-Crossman, who is an equine veterinarian, or horse doctor, in Georgetown, Texas; and son Bryan Crow, who lives in Los Angeles, where he is striving to become a screen writer.
"I have such a good support from my family," Crow said. "They really believe in what I'm doing and think it's important that I be (in the Legislature)."
Crow said she wouldn't have been able to make it through chemotherapy without the help and support from her family and friends.
While receiving chemotherapy, many of Crow's sorority sisters from Baker University would come sit with her during the treatment. She said treatments went by quickly with her friends there to talk with and reminisce about college days.
"I'm the only person I know who looked forward to chemo," Crow said. "I loved seeing my friends. It made all the difference in the world."
Her constituents of the 41st District, which includes sections of Leavenworth and Fort Leavenworth, also were supportive and encouraging. Crow said when she was first diagnosed, it never occurred to her to try to keep the illness a secret.
The daily e-mails she sent out with play-by-play accounts of each day's legislative session always included news about her trip to Kansas City for radiation.
"Once I let people know about my diagnosis, I got support from women in the community who had cancer and recovered," she said.
One of her goals with being forthcoming about her battle was to remind other women in about the importance of getting mammograms. Crow wrote a letter to the editor in many local papers to tell people about a Kansas program that allows women who don't have health insurance still get mammograms.
"A lot of people in our state think they can't afford to get that kind of preventative care, and I wanted them to know that it was available," she said.
Crow plans to run for at least one more term. She said she still feels like is work to be done and with her energy still as high as ever and getting stronger every day, she is ready to continue.
"I really do love doing constituent services and dealing with problems," she said. "I like connecting with people."
Her journey of the past 10 months has taught her a lot about life and just how much she is committed to the Kansas Legislature. Since her diagnosis, Crow hasn't looked back. She's kept moving forward fulfilling her duty while claiming victory in her personal battle.