Emergency officials handle casualty exercise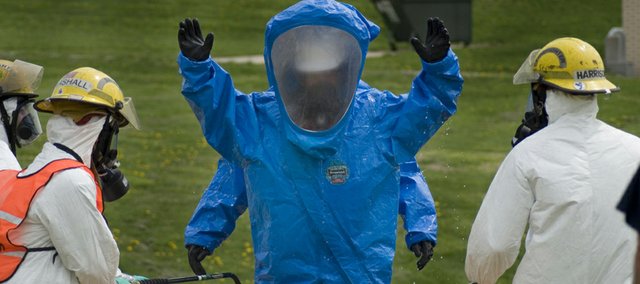 Editor's Note: The following story documents a mass casualty exercise conducted by the Leavenworth County Emergency Management Department and local emergency responders in order to test the countywide emergency operations plan. No one was actually injured as a result of the drill.
Just after 8:30 a.m. Wednesday, April 23 a gunman opened fire on U.S. Army officers studying at the Command and General Staff College at Bell Hall on post at Fort Leavenworth.
After military police and members of the Fort Leavenworth Fire Department arrived on the scene, six individuals were found dead - including the gunman - and 29 others were wounded.
At 10:12 a.m. the same morning, firefighters from the Leavenworth Fire Department responded to reports of a chemical release at the Leavenworth Water Department on South Second Street.
Two water department employees were killed as a result of the leak, and residents within a two-block radius of the water department were evacuated from their homes as a hazardous materials team with the fire department tried to contain seepage from a 1-ton cylinder of toxic chlorine gas.
While this scenario did, in fact, occur Wednesday, no one was actually hurt.
The "gunman" was actually a non-commissioned officer role-playing as an active shooter. The bullets he fired were paint-tipped, simulated ammunition.
The "chemical release" posed no real threat to residents living near the water department, and, although, a HazMat team was deployed, both events were part of a major mass casualty exercise, run by emergency management officials from Leavenworth County and Fort Leavenworth.
Simulations such as these are generally conducted annually with area emergency responders, Leavenworth County Emergency Management director Chuck Magaha said, but, he added, this particular one was "probably the first time we've had Fort Leavenworth and the county running the same exercise using the same equipment together."
Magaha, representatives from the Kansas Division of Emergency Management, elected officials and members of various emergency response agencies throughout the county quickly set up an emergency operations center Wednesday morning in the basement of the Leavenworth County Courthouse, which acted as a central command center for the exercise.
From there, officials coordinated with paramedics from across the Kansas City metropolitan area in taking the wounded from Fort Leavenworth to local hospitals including Cushing Memorial Hospital and St. John Hospital in Leavenworth. An electronic message board was utilized, to prevent victims from being taken to a facility that was already inundated.
Local fire departments used mutual aid agreements in responding to the chemical release, with firefighters from Leavenworth County Fire District No. 1 in Lansing helping respond to the scene. The Tonganoxie and Fairmount township fire departments were there, too, backfilling stations in case of another emergency during the drill.
"This was an excellent exercise," assistant Leavenworth fire chief Mark DeMaranville said Wednesday. "The more training you can do with as many participants that can get involved using real-world scenarios, the better prepared you are to handle it."
Capt. Diedre Peterman, deputy provost marshal and incident commander at Fort Leavenworth during Wednesday's event, agreed.
"Now we know the steps we would take for this specific event and for any other real-world event," she said.
Peterman said emergency responders' top priority in an actual catastrophe would be "to provide the security possible so there is no more loss of life."
Other participants in the exercise, like Leavenworth County Health Department administrator Donna Martin, played a more supportive role Wednesday.
Back at the emergency operations center, Martin was tasked with researching the physical effects of chlorine gas, which, in large amounts, is caustic to the eyes, skin, nose and throat. It can cause symptoms ranging from nausea and headache to choking and respiratory collapse.
While her role may not have been as active as other participants in the exercise, she said, "We all learned where we can help, where we can have influence and also where to hand over authority if need be."
In addition to preparing emergency responders in Leavenworth for the worst, Wednesday's event provided a chance for state emergency management officials to review Leavenworth County's preparedness for the event.
Keith Yoder, Kansas City metro regional homeland security coordinator, who was overseeing the chlorine leak, said that the Fort Leavenworth Fire Department and the Leavenworth Fire Department had accomplished their objectives.
"We wanted the two fire departments to work well together," he said. "These types of incidents - pray to God - occur infrequently. They have to get out and practice a little bit and practice working together and communicating together."
State homeland security representatives graded emergency responders' actions in a corrective action report.
Magaha said that while some shortfalls - like being limited to one access route by road to the water department - were identified, for the most part the exercise went very well.
When asked whether an exercise like the one conducted Wednesday should alarm Leavenworth residents, DeMaranville said, "As a typical citizen, I would expect this type of training from the emergency services."
Magaha added, "It should mean a lot to the community that, one, we can all work together and, two, we're not going to run into an incident where nobody knows what their role is."