Justice Center designs approved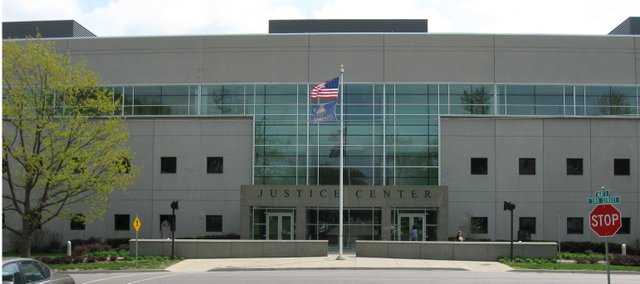 Leavenworth County Commissioners are set to go out for construction bids for renovations to the county Justice Center.
The board approved final architectural designs for the project, which were submitted Monday by Dan Rowe, with Treanor Architects of Topeka.
The project will complete what was left undone when the Justice Center was originally built, sheriff David Zoellner said. It will add a kitchen for the county jail as well as a work release/trustee area for inmate workers.
Rowe said bids from general contractors should be received by the second week in June, and he estimated a price tag for the undertaking at almost $1.5 million.
Also the board, acting as Sewer District No. 3 of Leavenworth County, voiced approval for an interlocal agreement with the city of Basehor that would connect a sewer line to the city's wastewater treatment facility at the point, where currently, sewage is discharged into the district's overcapacity wastewater lagoon.
Sewer District No. 3 services 91 lots in southern Leavenworth County, including the Glenwood Estates subdivision near the intersection of Evans Road and 158th Street and the Glenwood Ridge Elementary School on 157th Terrace.
It will take on an additional load once a new Basehor-Linwood middle school is complete in what school district officials have projected as fall 2010.
Under the proposed agreement, a gravity line would be laid to transport wastewater from within the boundaries of Sewer District No. 3 to sewer facilities maintained by the City of Basehor.
The district is to pay for construction costs and connection fees upon receipt of funds from the state revolving loan fund and will eventually be reimbursed on a per lot basis in the total amount of $621,000.
While County Counselor David Van Parys said the cost per lot is more than county officials would like right now, he noted, "Staff feels the cost will dramatically be reduced over time," adding, "The land available for future development is nearly twice the size of the existing Glenwood subdivision."
Commissioners voted, 3-0, to pass a resolution in support of the interlocal agreement contingent upon the fact that the Basehor City Council approves the agreement in a meeting Monday, May 5.
Commissioners also accepted a bid from Kearney, Mo.-based Trickle Construction Monday for the building of a new emergency medical services near the intersection of 16th Street and Metropolitan Avenue in Leavenworth. The $846,500 construction project is to be financed through a state statutory bond and a performance bond issued by Safeco Insurance.
In other business Monday, the board:
¢ Accepted, 3-0, a $37,380 bid from Automated Business Systems to install moveable shelving units in an employee break room at the Leavenworth County Justice Center that will store dead files from the district court.
¢ Did not grant relief from the County Road 1 moratorium area to James Belt, a property owner who wanted to subdivide and develop two five- and 18-acre parcels east of the intersection of Kansas Highway 32 and County Road 1.
¢ Met with public works staff and county surveyor Dan Schmitz in an effort to reduce the amount of on-call surveying services needed for public works projects.
So far in 2008, over $19,000 has been expended in contractual services. That's 35.7 percent of what was spent in total for 2006 and 2007.
¢ Met in executive sessions totaling 20 minutes to discuss acquisition of real property with Van Parys and county administrator Heather Morgan and to discuss personnel with Morgan and human resources director Diane Collins.
In business Thursday, the board:
¢ Unanimously approved a special use permit, allowing the expansion of a Westar Energy electric substation near the intersection of Bauserman Road and 195th Street.
The expanded substation, which includes plans to extend a cross-country transmission line through property in Leavenworth County, would increase the number of residents served by the company in northeast Kansas and could improve the reliability of service, Leavenworth County Planning and Zoning director Chris Dunn said Thursday.
¢ Considered re-implementing a safety incentive program for county employees who stay accident-free. Under the program, drawn up by members of the county safety committee, employees would be entered into a drawing for two $25 cash bonuses each month they are not involved in an accident. Two $100 bonuses would be handed out each year to employees with no more than one accident.