Somethin' to keep him jumpin'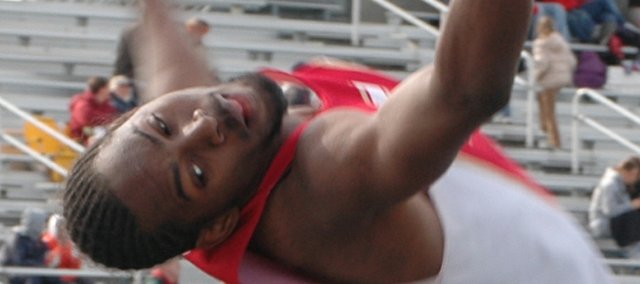 Photo Gallery

Chieftains compete at Gardner Edgerton
Gardner — Kendrick Whittington is proving the lyrics of an early 1990s rap duo to be correct.
It turns out Kris Kross will indeed make you, "Jump! Jump!"
Part of Whittington's warmup routine includes busting out his iPod and listening to the popular hip-hop tune from 1992 before he hops in the high jump for the Chieftains.
"I get the music going to get me pumped up," the Tonganoxie High senior said. "There's a lot of stuff, but mainly Kris Kross."
It must be working. Whittington finished first in the boys high jump at the Blazer Invitational at Gardner-Edgerton High on Friday, giving him his third win in his main event this year (he finished second at two other meets).
Even though the song that gets him going came out when he was a toddler, Whittington said the track, which uses the word "jump" more than 50 times, helps him concentrate on the task at hand while he gets hyped.
"Just constantly thinking about jumping, just hearing it over and over" is what makes it effective, he said, adding that he started the ritual this season. "I make sure I listen to that song to get pumped up a little bit."
But there's a lot more to Whittington's ability than the music bumping in his ears before he explodes over the bar. THS jump coach Chris Weller said the senior, who isn't competing in the long jump or triple jump as he did in past seasons, is concentrating on one event and proving to be effective.
"He has an abundance of spring," Weller said. "He's really a little bit more focused this year than what he's been in the past."
He has also been healthier this season. While Whittington said his back has bothered him a little on his landings this year, he has avoided a derailing injury and remains able to compete. Weller said that might be because the jumper is maturing and taking care of himself. After he jumped 6 feet, 2 inches at the invitational, he took himself out instead of trying for a higher leap.
Whittington went to state in the high jump last year, but Weller said he has seen even better things from him this season.
"Now all of the sudden he's getting a little bit better every meet, and he's starting to win," Weller said, "and he's got that competitiveness in him."
Whittington, who is one of many Chieftains on the boys track team to be successful this season, said the guys are boosting each other's confidence.
"There's a lot more support from each other," he said of the difference for the team this year. "Everybody's watching everyone, just keeping everybody hyped up."
Whittington was able to watch a number of his teammates succeed on Friday. Jeremy Carlisle won the 400-meter dash (52.34) and finished second in the 800-meter run (2:02.39). Tyler Gurss finished second in the discus with a throw of 144 feet, 4 inches, and the 4x100 relay team Bret Koch, Jason Espeland, Carlisle and D.J. Lindsay finished third (45.81).
More Tonganoxie Boys Results
High jump 4. Austin Smith, 5-10
Shot put 7. Chance Rawlins, 41-9
Javelin 4. Gabe Belobrajdic, 163-7
4x800 relay 7. Patrick Holton, David Powell, Chris Jordan, Tommy Heskett, 9:50
200-meter 5. D.J. Lindsay, 23.45
300-meter hurdles 4. Jamison Bloomer, 44.39