Annual threshing bee goes full steam ahead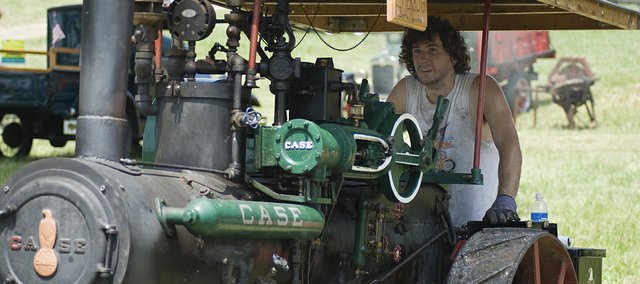 McLouth — Matt Petty looks at the pressure gauge on top of his half scale 65 Case steam engine. The needle hovers just below 90 psi.
He opens the door to the firebox and throws in another piece of wood. He makes some adjustments and lets out a little steam allowing more oxygen into the firebox, which makes the fire burn hotter. The 21-year-old Meriden man has to constantly monitor the engine when it's heating up because "it's a balancing act with the pressure, the fire and the water," he said.
Photo Gallery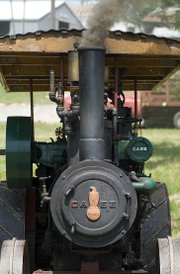 2008 McLouth Threshing Bee
51st Annual Threshing Bee
It's not a problem for Petty, who has loved steam engines for as long as he can remember.
"They just kind of have a heart and soul to them," he said. "They all kind of have their different attitudes. Some will cooperate and some are just a royal pain in the butt. But when it comes alive, with the heat of it, and the warmth and all of the clicks and bangs, there is nothing better."
Petty's steam engine was among hundreds of tractors, trucks and other farm equipment on display at the 51st annual Threshing Bee in McLouth. Each year the bee brings in thousands of people who want to see how farming used to be done.
Guests are treated to the sights of steam-powered threshing machines that literally separate the wheat from the chaff, as well as live music and tractor pull competitions with new and antique tractors.
But if it isn't powered by steam, Petty is not that interested. His mother LuAnn Petty, McLouth Threshing Bee treasurer, said he was born with steam in his blood.
When Petty was a month old, LuAnn said she brought him to the bee. A whistle from a steam engine was used to signal lunch time and baby Petty heard the noise while he lay in his car seat in his mother's car.
"That baby just went crazy and he started laughing and kicking and throwing his arms around," LuAnn said. "I was like, 'oh my God he is going to be a steam kid.'"
Petty got the engine when he was 14 years old. In seven years, Petty said he has put in thousands of dollars and about 500 working hours with his friends including Joe Putthoff and Jeff Mathews, other steam engine enthusiasts.
For four of those seven years Petty has been with his 20-year-old fiance Sarah O'Hara. She said she didn't know a lot about steam engines and threshing bees before she met Petty, but she has come to like it.
"Since he loves it so much why not get into it," she said.
Petty even proposed to her on the steam engine, which he calls Ericka Jo after O'Hara's late cousin, who introduced them.
"It's hard to find a girl in this day and age that is willing to go to these events let alone be willing to marry a guy that is into it," Petty said.
The couple will be married in October of 2009.
The Threshing Bee will conclude today with the steam threshing at 10 a.m. and 2 p.m.